Block Friday Settings
If you're reading today's post on Block Friday Settings, I hope that means you are all in! I have no idea how many people plan to join along, but I'm excited about stretching myself with this project whether anyone else decides to play along or not. They say that before you start down any path it's a good idea to know where you're going. Today's post is all about knowing where we are going with making Block Friday Quilt Blocks, so I'm writing this article to give everyone some Block Friday Settings options. Hopefully, it will start your own creative juice flowing!
One Block Per Week. (Or more if you want.)
First, let me assure you that Block Friday is structured so that you can either ramp up or scale down your level of commitment at any time. If you're still on the fence, or want to find out more about the Quiltalong, please read this post regarding how Block Friday works. I've participated in several online quiltalongs in the past and for the most part really enjoy them. The one hangup I do have is when there is a frantic pace. This may not be an issue for those of you who do not work outside the home. But since I happen to have a full-time outside the home job, I know how much stress these can add to your life. You want to participate in a project because it looks like fun, but the schedule is causing it to become more like a second job instead of a leisure activity. I so empathize with that. The last thing we all need in this world is undue stress, right? Like I used to tell my kids: If you're playing and it's not fun, you're not doing something right.
What to do with those weekly blocks?
If you're wondering what you're going to do with all these weekly blocks, let me throw out a few of the obvious suggestions first. If you've quilted for awhile you may feel comfortable "designing your own" and there are several quick and easy ways to do this.
Traditional settings:
Straight set blocks – this simply means the blocks are set side by side with no sashing. To do this, all your blocks need to be the same size or at least in multiples of the same size (i.e. 5″ and 10″ or 6″ and 12″) My example shows them all the same size, but you could substitute any one block with 4 blocks that were half the finished size as the original.
Straight set rows with sashing. The same rules apply with regards to the block sizes as the previous example. You can make the sashing any size you like, but I think it looks best when the sashing is 25% of the block size. (i.e. for a 10-inch finished quilt block, my sashing would be 2.5″ finished.) Of course, you can also add borders any size you wish so that your finished quilt is the size you want.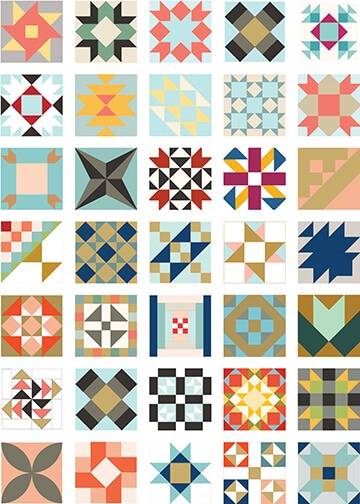 On Point rows with sashing. Here is an idea I have to make it a bit more interesting. Instead of filling in all the rows, remove a few quilt blocks to make a heart design.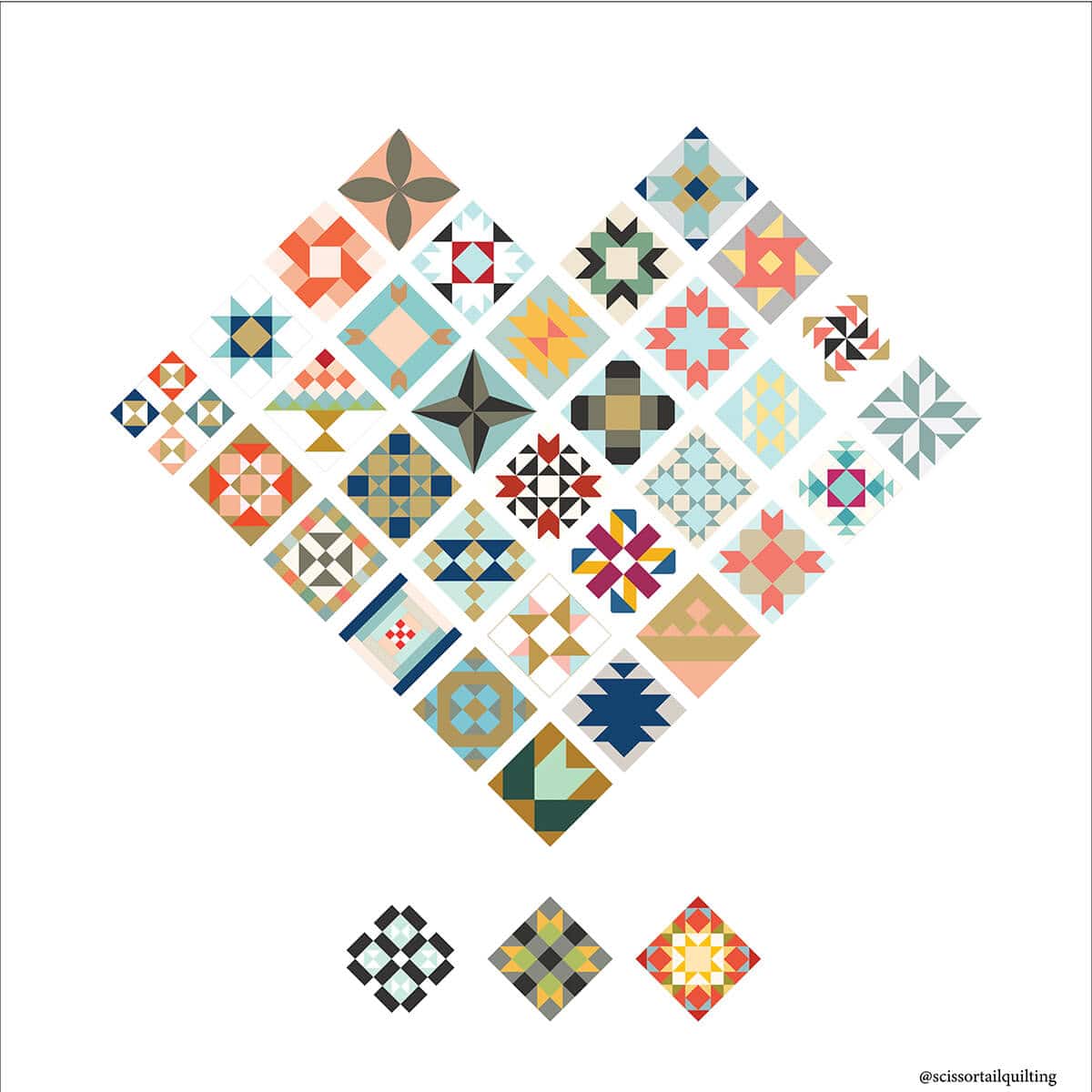 Of course, in each case, the size of your quilt will be determined by how many blocks you make.
Some Custom Settings:
I've designed three custom Block Friday Settings with three levels of commitment/difficulty in mind. Later this year I will have the full setting instructions available for download. I'm still working out the math, making sure the blocks can be created in sizes needed for these settings, so the designs are subject to change. For now, these will give you something to think about as you plan your blocks.
49 Block Collage (Challenging). This arrangement uses an assortment of block sizes ranging from 8″ to 20″.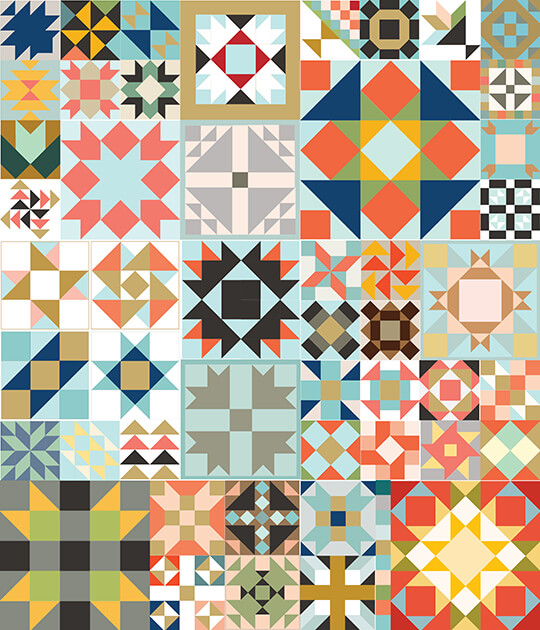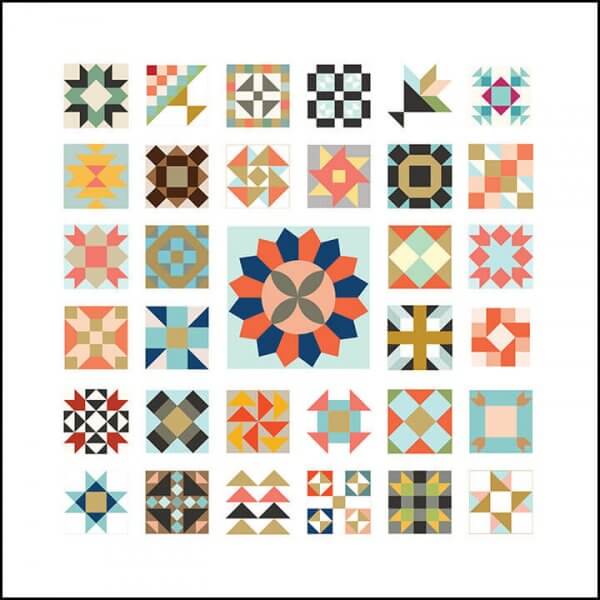 23 Block Modern Sampler (Simplest). This setting uses 6 15-inch blocks and 17 8-inch blocks.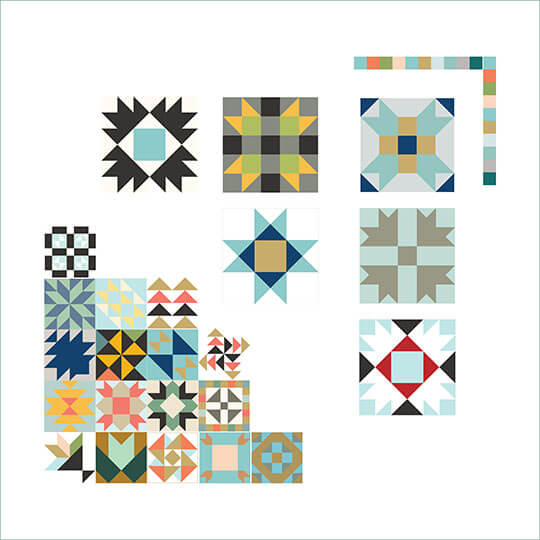 I hope these ideas give you a roadmap for planning your Block Friday settings. Are you feeling inspired? Are you ready to get some quilt blocks made? I know I am!
So, until next time I hope you all have a safe and Happy New Year. I'll be looking for you here next week!
Happy Quilting!
Maria
Happy Quilting!