Bouquet Quilt Block Pattern | A Flower Basket Quilt Block
Hello again! This week, I'm sharing a simple but lovely flower basket block called the Bouquet Quilt Block Pattern.
But first, a little housekeeping:
This will be the last "Pre" Block Friday pattern I share this year. But don't fret….
After a break to celebrate Christmas with my family, I will be back with another post on December 29th. That post will reveal some setting options I am developing for use with the Block Friday blocks.
Don't forget: All of the "Pre" Block Friday patterns that were released during November and December will lose their free status when Block Friday officially goes "live" on January 5th. If you haven't downloaded the patterns yet, be sure to do so before 5 January 2018!
Please sign up for the mailing list. It's a great way to stay informed about Block Friday. Email subscribers have exclusive access to a monthly discount code that can be used in case you miss a pattern.
Let's Hashtag this! #STQ_BLOCKFRIDAY #STQ_BlockFriday_Jan2018
I'm curious to know if any of you have made blocks using the patterns yet. There really isn't any reason we can't start posting them to Instagram, is there? So, if you're ready, post any Block Friday block photos to Instagram using the hashtags above. Be sure to use BOTH hashtags. The first hashtag should pull ALL of everyone's Block Friday blocks, the second one will pull only those that are eligible for the January prizes.
The Bouquet Quilt Block Pattern:
The "Pre" Block Friday block this week is the Bouquet Quilt Block Pattern. This is a block that I have always found attractive. It is clean and simple with a nice symmetry to it.
As far as the history of this block goes, I don't know much. The first time I remember seeing the block was in Laurie Aaron Hird's book "The Farmer's Wife Sampler Quilt." According to her, all the blocks in this book were in use by the 1920's.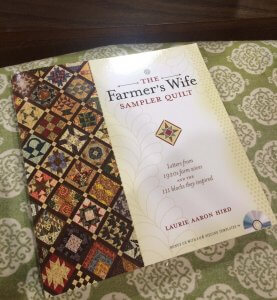 Traditional templates would have required the use of Y seams. Laurie's version avoids them by splitting the side triangles in half. She also uses parallelograms which are a bit trickier to explain how to cut.
I decided to write the pattern using half square triangles instead of the parallelograms. This makes the cutting straightforward and still avoids the use of Y seams.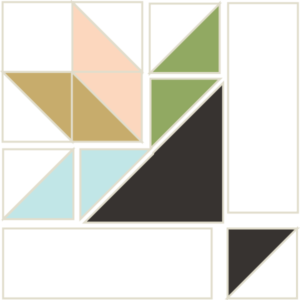 Of course, the first step is to sew the HSTs into squares, however, you will not sew those three "lonely" triangles in the center just yet. ("Lonely" triangles are the small blue and green triangles and the large dark triangle).The trick to putting this girl together is to first sew the 4-patch square in the upper left corner. Next sew those "lonely" HSTs to the side of the adjacent HST, forming a parallelogram. Make sense?
It's a little hard to explain in words, so here is a quick video that puts it all together for you:
There you have it! Here is the download link to the pattern:
I hope you enjoy making this block, and I hope everyone has a peaceful and joy-fill holiday!
Happy Quilting!
Maria
Happy Quilting!