Checkerboard Quilt Block Pattern
Today's Block Friday block is the Checkerboard Quilt Block Pattern. This block is actually easy to sew but can be a bit tricky to get perfect. In this post, I explain why so you can be on the lookout for the trouble points. It all goes back to the math. One thing you should know about me…I'm a former high school math teacher and I can hear you groaning already! But don't groan. I'm going to keep this really simple. The pattern is at the bottom of the post and can be downloaded for free over the next 24 hours. If you're new to my site, check out the full scoop about Block Friday patterns in this post.
Sometimes the math is easy – Sometimes it's a little more work.
Interestingly enough, last week I received the following email:
(BTW, I love getting your emails and answering your questions, so don't be afraid to send them. They are great sources of blog content, too!)
I have a question: why is the Farmer's Daughter block 5″ while all of the others are 6″? I want to make a table runner using the blocks that you published in December and want to make them 6″.
Here was my response:
It's good to hear from you! What a wonderful idea to make a table runner from those blocks! It sounds lovely!

Thank you for the question. The answer lies in how the math works out when you draft the block.

In order to calculate the math, you first need to figure out the "grid." The Air Castle block, for instance, is based on a 3×3 grid (aka 9-patch). To make the calculations, you take the finished block size and divide it by 3 to determine what each unit in the grid should measure. The Anvil and Bouquet blocks are based on 4×4 grids. (aka 4-patch) Likewise, to calculate units for those blocks, you take the finished size and divide it by 4.

So, for a 6" block on a 3×3 grid, you'd divide 6 by 3 which comes out evenly to 2. For a block based on a 4×4 grid, you'd divide 6 by 4, which comes out to 1.25. While it doesn't come out evenly, it's still a number we can work with because it's fairly easy to find on your ruler.

The Farmer's Daughter block is based on a 5×5 grid. When you divide 6" by 5, you get 1.2, which works out to a funky measurement to find on your ruler. While it's possible to round those numbers up, you'd be adding a bit of error to each column. Multiply that by 5 columns and the end result is that the block would never come out to 6" (more like 6.25). Then everyone would be fussing at me because their block wasn't finishing out at the right measurement!

Here is what you can do to make this work in your design: make a border around your 5" Farmer's Daughter block. I would sew 1 1/2" strips to all four sides, then square it up to 6.5" (Unfinished). I also think this block would be really awesome if you were to miter the borders. (I plan to write a post on how to make mitered borders in a few weeks.)
If you don't like the idea of adding a border, then I'd suggest that you find a replacement block that is a 4-patch or 9-patch.

I hope that answers your question and helps solve your design problem. Please let me know if this answers your question adequately. And I can't wait to see what you make with your Block Friday patterns!

Happy Quilting!
Maria Gee
Calculating the Checkerboard Quilt Block Pattern
Do you remember the Pythagorean Theorem from your High School math days? It's that little formula you use to calculate the length of any side of a Right Triangle. I'm not going to bore you with a refresher lesson, but I will remind you that when using that formula you have to calculate square roots. Square roots rarely come out even.
So, much like the Farmer's Daughter pattern mentioned above, we have to do a little rounding. But unlike the Farmer's Daughter pattern where the error is repeated five times over, in the Checkerboard Quilt Block Pattern the rounding error is only applied to the squares that are turned on point.
Making the Checkerboard Quilt Block
When you make a block that turns out EXACTLY the correct unfished size, with all the points in the right places, then I like to say that you've "NAILED IT!" In order to "nail" this block, you need to be extra vigilant with your precision when sewing your seams. That little rounding error gets multiplied when your seams are not precise.
The actual sewing of the block is pretty easy, so take your time to get your 1/4″ seam right.
First, sew your 4-patch in the center. Press to the dark side. I like to "twirl my seams" so the unit lays flatter.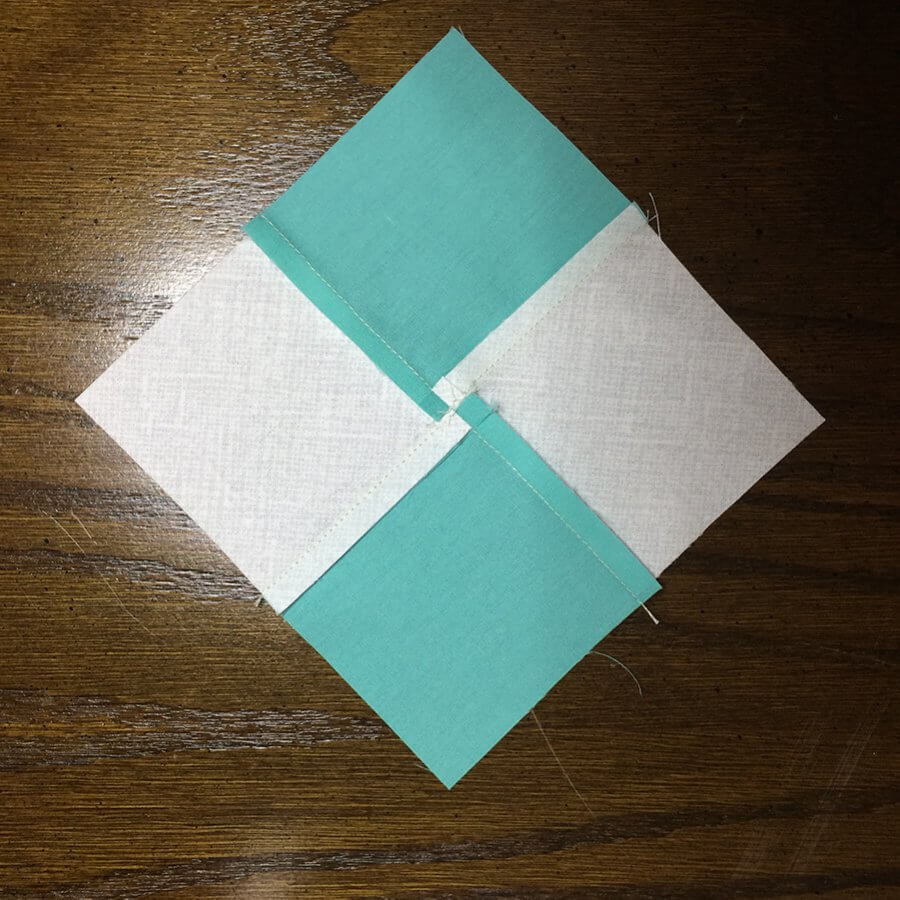 Then sew the 1/2 QST units, making sure you have the colors placed properly. Notice that two of the units are opposites of the other.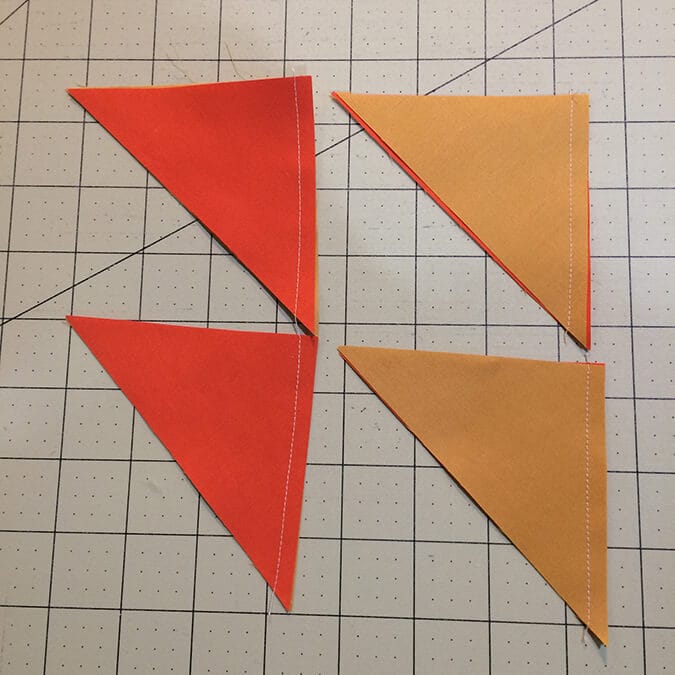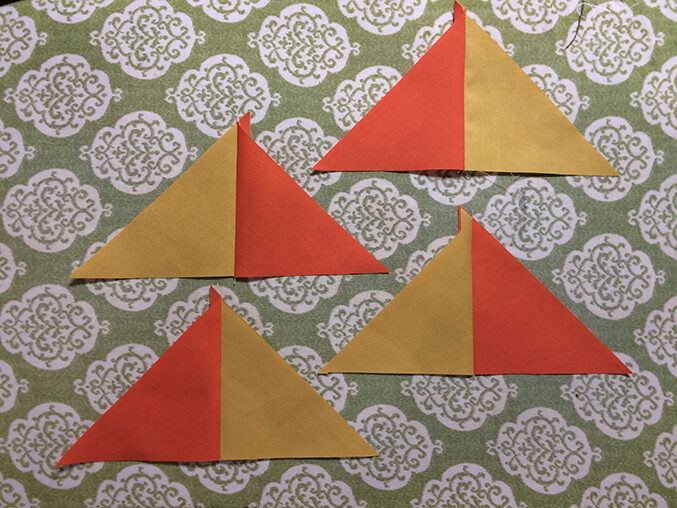 Now attach the corner units to the opposite sides of the block. Then, go back and sew the remaining corners to the other two opposite sides of the block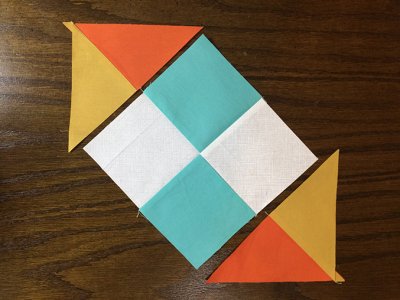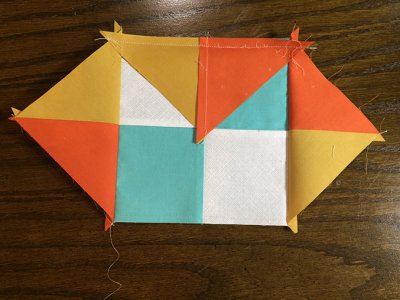 The Creative Grids Square on Square 8″ trim tool is perfect for squaring up this block. (And it's handy for squaring up multiple sizes of SNS blocks). I love that with an 8″ block, I can see exactly where my seam line should fall. I'm linking you to it below and also linking you to the 6″ version.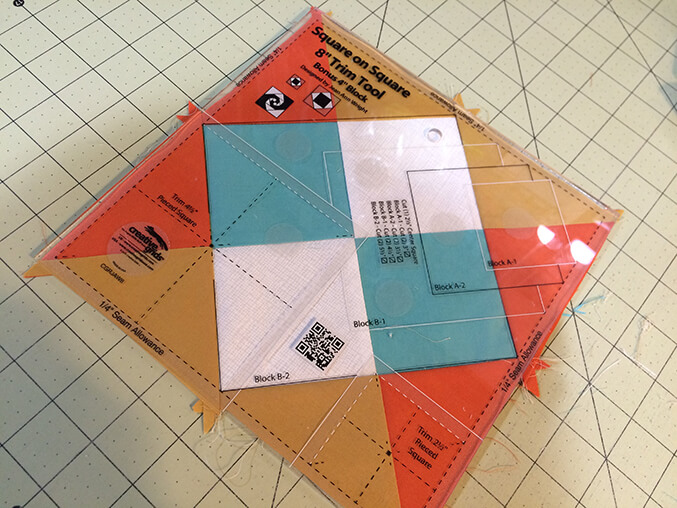 The links below are affiliate links, which means that if you click either link and choose to make a purchase, I will earn a commission. This commission comes at no additional cost to you. Please know that I only link to items which I personally use and feel that I can confidently endorse Your support by using these links is greatly appreciated.
A few thoughts on the design:
The Checkerboard Quilt Block is very similar in style to the following blocks, which you can find in my Quilt Block Library.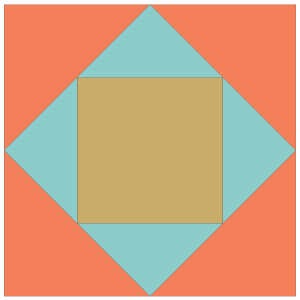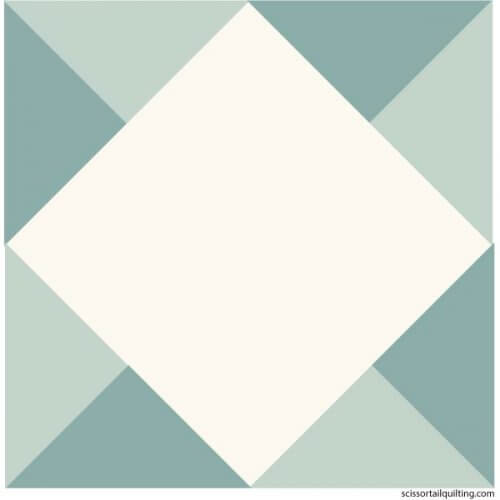 So, that about wraps up the info I have for you on making the Checkerboard Quilt Block Pattern. Without any further delay, here is the download link:
Update: This promotion has ended. You may still download the pattern by visiting this page in the Block Library.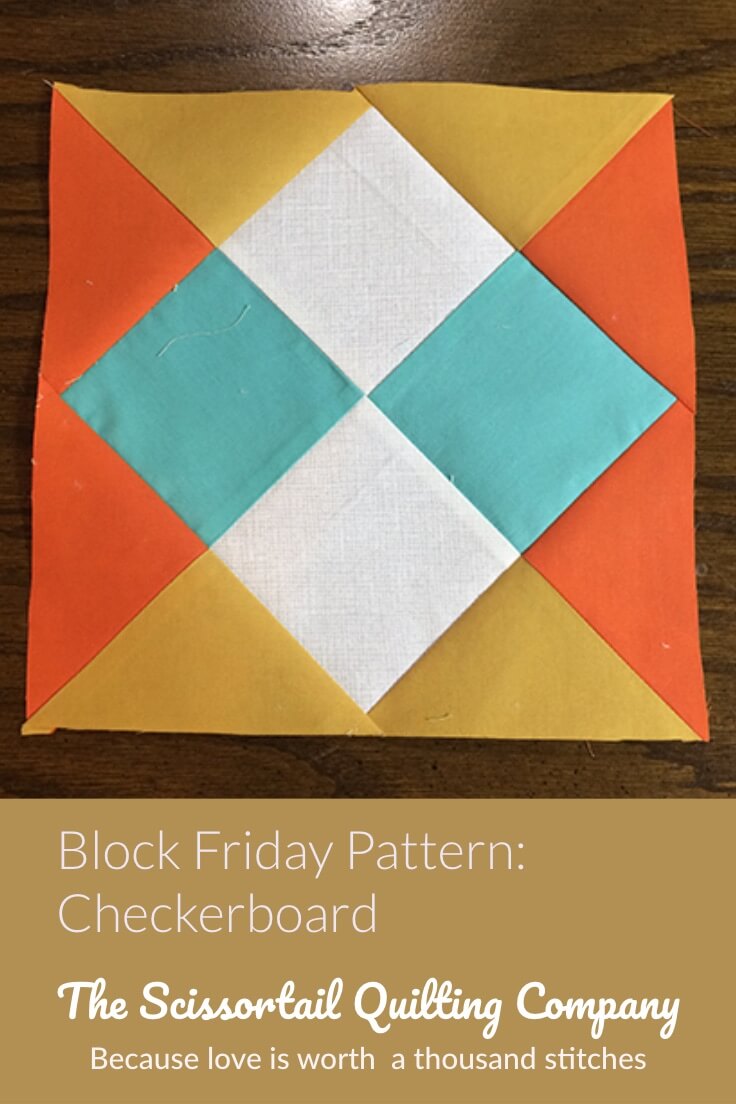 Happy Quilting!