The Farmer's Daughter Quilt Block Pattern (Download)
Happy (Pre) Block Friday, again! This week I introduce the Farmer's Daughter Quilt Block Pattern, and I think she's a beauty.
I'm super happy to have so many already following along, If you know someone that you think might get value from Block Friday, please tell them about me and send them over here. If you're new here and you're unfamiliar with Block Friday, you can read the full post that explains it here.
A few housekeeping comments:
Your comments and feedback are super appreciated. Please feel free to let me know what you like or don't like about the information I provide.
Our December "dry run" for Block Friday has already helped me iron out some wrinkles in the pattern format. Plus it's helping me work out a schedule for pattern creation and block testing. I am so much more confidant that blocks will be posted in a timely manner. Honestly, when I decided to try this, I wasn't sure I was going to be able to keep up the pace. But so far, so good! (It's helped that I've spent so much time already creating the library and drawing blocks in Adobe Illustrator!)
As I fine tuned my Block Friday schedule, I realized that I should include more photos that explain the pattern. Starting with this post, that will be part of the weekly workflow.
There is now a central page on the site that lists all the Block Friday blocks. The Block Friday Gallery can be found  here. This page can also serve as a jumping in point for people who might want to get started later in the year.
Many of you may not just want to make quilt blocks for the sake of making blocks. Most of us want to have a plan or some kind of end goal in sight. You may be wondering, "What am I going to do with all those blocks if I play along with Block Friday?" Shortly after Christmas I hope to release some setting patterns that you can use to make quilts with your Block Friday blocks if you play along with us, so be on the lookout for that!
One of the things I really like about this block is it's simplicity, and yet it still has quite a bit of visual interest. The grouping makes a simple star pattern. If only it had the word "Star" in the name, I might have an easier time remembering what it looks like! (I've said before that quilt block names are such a mystery to me…) I can only imagine that some sweet farming mom wanted to name it something to remind her of her daughter.
One block. Many variations.
(The following information is from the Kansas Wetlands & Wildlife National Scenic Byway, which had information about the Kansas Quilt Walk Tour in Great Bend, Kansas. My interest was definitely peaked. I'm already thinking of excuses I can use to schedule a trip.)
There are at least three variations of blocks similar in design to this style "Farmer's Daughter Quilt Block pattern." The first known instance of it appeared in the Ladies Art Company catalog of 1898 as "number 419." (Apparently there were so many patterns released in these catalogs that they resorted to giving them numbers instead of names. Which makes perfect sense to me!) In the 1930's, the same design was presented by Nancy Cabot under the name Two Crosses. Another Farmers' Daughter design used the same construction but has a different coloring. This design is believed to have been introduced by Clara A. Stone, who wrote Practical Needlework: Quilt Patterns.
In light of the block's design history, it's easy to see how color/fabric choices can give it an entirely new look. Even though it's clearly a traditional design, it still translates well into modern quilts. The Farmer's Daughter Quilt Block pattern is made up of simple squares and half square triangles using three colors.
Putting it all together
I chose to make a 10″ version of the block. First, I cut the squares as directed by the 10″ column in the pattern. Then I sub-cut squares where indicated. (These are the squares that have a slash through the diagonal in the pattern.) You might note that I caught an error as I was working…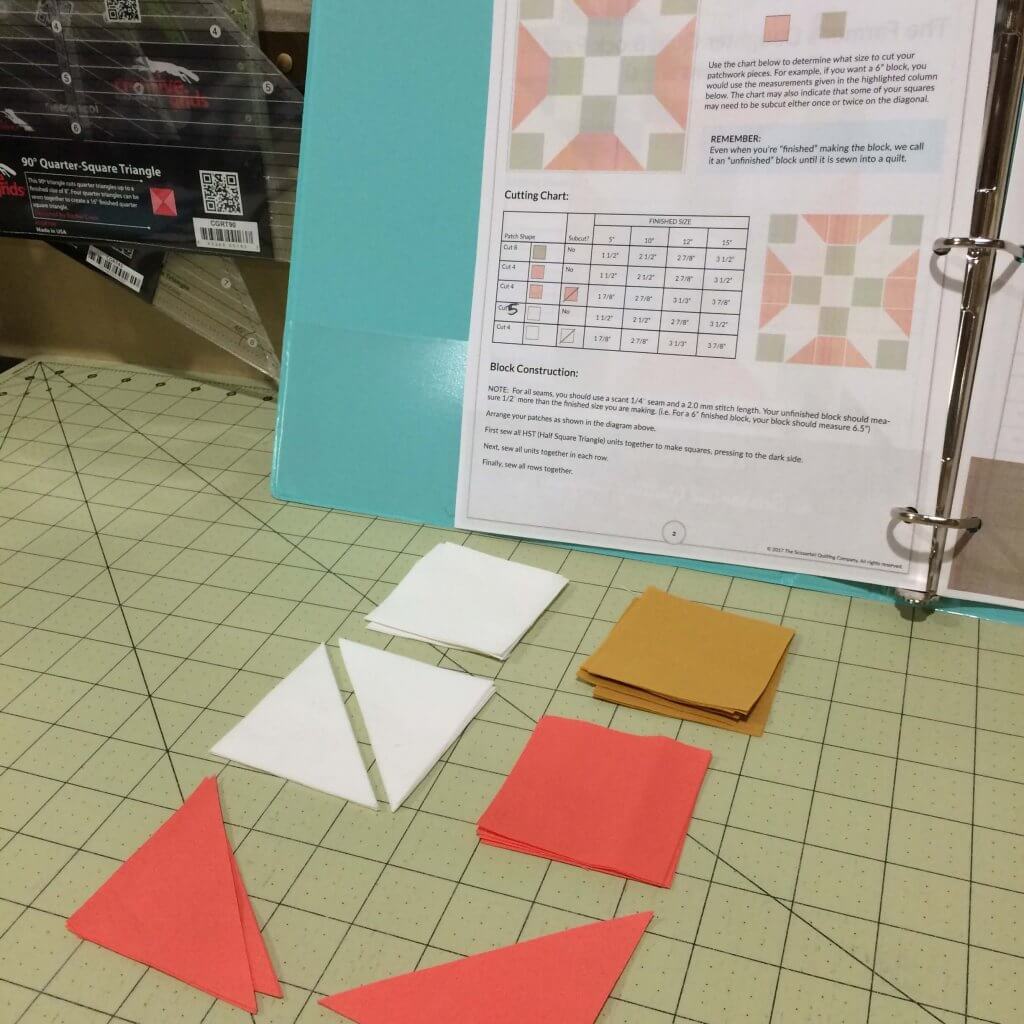 I'm a big believer in arranging my patchwork pieces on a mini design board when I make blocks. You can read more about them in this post. I have several versions. When I work at home, I use the ones I made according to Lori Holt's instructions  made from a piece of foam core board. Since the board is rigid you can move it from your cutting table to your machine without the pieces moving around much.
I also have some foldable design boards that I made using cute fabric and fusible fleece. These are great for retreats and sewing group meetings because they fold and pack up easily. Even though they are not rigid, they still work well as long as you aren't moving the board around between work stations. Photos of these are in the above mentioned post. More specific instructions are in the post, but to make them, simply fuse the fleece to a large square of fabric, then bind to finish it off. These make great gifts for quilting friends, by the way.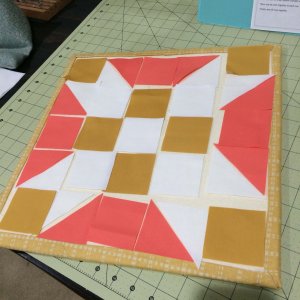 I went back and forth on the colors, but eventually decided to go with the peach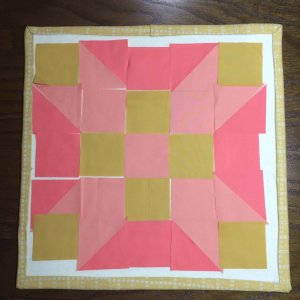 Constructing the block is fairly easy. First, I made the HSTs. I pressed to the dark side and trimmed up the little "ears."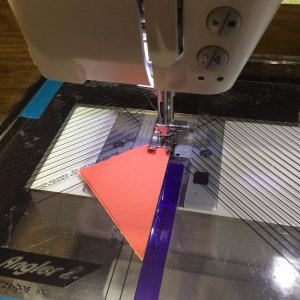 When chain piecing, I can make quick work of cutting the chain threads using this nifty gadget.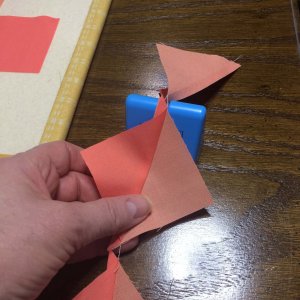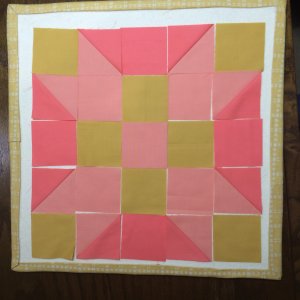 Then it's just a matter of sewing the rows, then attaching the rows together. Here is my finished block. It didn't turn out as well as I'd like. (Full disclosure, it's about 1/8″ short on one side.) but I'll keep it anyway.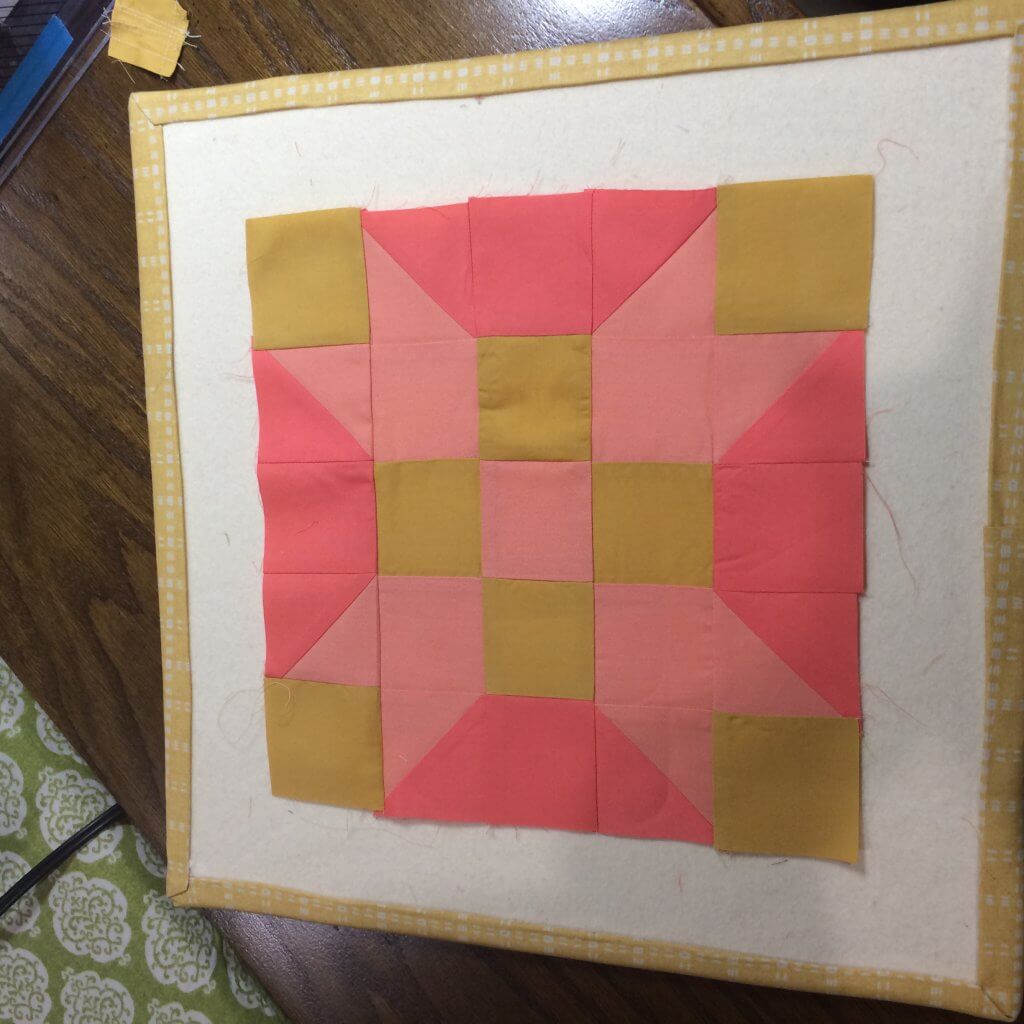 You can download the pattern by visiting the Farmer's Daughter Quilt Block page in the Quilt Block Library.
I hope you'll try out the block and tell me how it works out for you!
Happy Quilting!
Maria
Happy Quilting!