Block Friday Organization
Update: Apparently the file at Payhip was corrupted. If you experienced any difficulty with the download, please try again, as I have uploaded a new uncorrupted version.
Just a quick post to say Happy New Year, and to give you a little New Year's present to help with your Block Friday Organization! It's my little way of saying thank you for following along with Block Friday! But one caveat: you need to grab it this week because, on Jan 5 (just like our other "Pre" Block Friday goodies), it will no longer be a free download.
Those who know me well know that I'm a bit of an organizational nut. You know… a place for everything and everything in its place. Like most people, this is the time of year when I typically start going through cabinets and closets, tidying them up so that everything gets back into its place. Although, admittedly, I tend to do this all throughout the year. It's a sickness, I know.
I just finished a major purge in my sewing area, trying to get a handle on where all my projects and notes were at. If you're wondering how I keep track of my quilting projects, take a look at my post on Quilty Project Management.
But back to the issue of Block Friday Organization
I created a very simple way to organize my Block Friday patterns and thought I'd share it with you. So, if you're interested in a little Block Friday Organization system, here is what you will need:
You'll need a printer. If not there is always FedEx/Kinkos, where you can easily upload the file, tell them how to print it and then run by later to pick up. I wouldn't use them for big jobs, but for little one-time runs, you can't beat the service. (My printer is a little under the weather, so that's who I used.)
A 1″ 3-ring ViewBinder with side pockets inside. ViewBinders are those binders that have a clear vinyl pocket on the front, back, and spine so that you can insert your own custom covers and spine. (I'm hoping the 1″ size will be big enough. If you're printing out your patterns on both the front and back sides of the paper you should be fine, but if you are printing single sided, then you may need a 2″)
A 3-hole punch
Optional: Cardstock
Optional: 1 tab divider
First, you will need to download the Block Friday Organization Cover and Spine file.
Again, make sure you do this before Friday. There are two pages in this PDF. I recommend you print them on white cardstock so that they will insert easier into the vinyl cover slot. Page one is the front cover. Page 2 is the Spine. You can trim the cover to eliminate any white borders if you like, but you will definitely need to trim the spine so that it measures 1″ wide.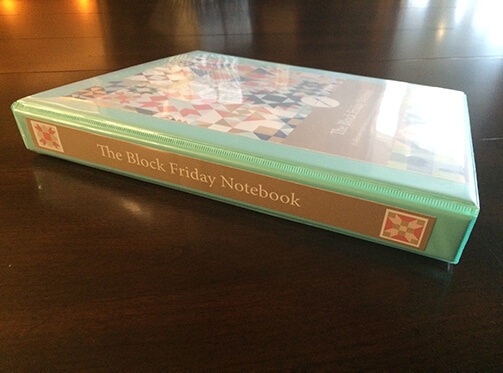 You can download your Block Friday Organization Cover and Spine here:
Next, put your patterns in the binder.
Use your 3-hole punch to punch holes on the left-hand side of your printed patterns, then place them in the binder. How you organize them inside is totally up to you. You might want to keep them in date order, or perhaps in alphabetical order. Whatever makes sense for you.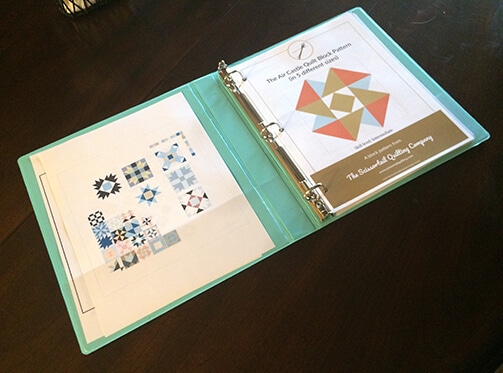 You can see that the left pocket of my binder has working notes about the patterns I am currently designing to go with the blocks. Once the patterns are available, you might want to insert those behind a tab, to keep them separate from the block patterns. (Hmmm…maybe later this year I should design a custom tab for us to use.)
If you haven't downloaded all the patterns I've released so far, be sure to get them all while they are still free. You can find a running list of all Block Friday patterns that have been released in the Block Friday Gallery.
There you have it, a simple little Block Friday Organization system to keep everything in its place.
Enjoy! and have a very Happy New Year!
Maria
Happy Quilting!