Sewing Machine Needle Sizes
We usually don't think about how sewing machine needle sizes will affect a project when we sit down to sew. But the truth is that your sewing machine needle plays a vital role in the performance of your sewing machine. And using the wrong size needle for the job can potentially cause you some frustration down the road.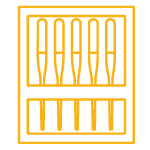 A handy reference chart about Needle Sizes
Fabric
Project Type
Appropriate 
Thread
Needle Size
US/EUR (POINT TYPE)
Quilting Cotton
Patchwork
50 wt. Cotton
75/11 (H-J)
Quilting Cotton
Quilting
50 wt. Cotton or Poly
80/12 (H-Q)*
Quilting Cotton
Embroidery
40 wt. Cotton, silk or rayon
90/14 (H-Q)
Heavier Cottons: Denim
Canvas, Upholstery
Patchwork,
Bag Making
Polywrapped cottons
Denim 80/12 (H-j)
All Cotton Flannel
Any
50 wt. Cotton
90/14 (H-Q)
Silk
Patchwork
100% Silk
Microtex 60/8 (H-M)
Silk
Quilting
Silk or or HiSheen Polywrapped cotton
80/12 (H-Q)
* When quilting heavily layered projects (such as art quilts) a denim needle may be necessary.