A quilter's pack and play.
Estimated reading time: 3 minutes
We all know that necessity is the mother of invention.  One of the things that I absolutely need when doing patchwork is a design board.  I first heard of these when visiting Lori Holt's blog a few years back.  Lori describes in this post how she makes hers out of foam core board, so I whipped up a few for myself.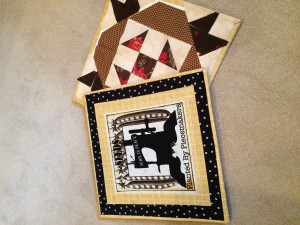 Now I can't imagine laying out a block without them.  Aren't they adorable?  One side is flannel so your fabric pieces stay put while you are playing with them. You can arrange the pieces, and not have to worry about  the ceiling fan (or your pet) messing them up.  Pure genius!  Needless to say, I am addicted to my little design boards.
Last month I nearly experienced design board disaster.  While traveling to meet with my quilt group I nearly bent one of my design boards.  It seems that foam core boards don't travel very well. That got my brain to thinkin….(scary, I know).  What I needed was a pack'n play version of my design board.
Here is what I came up with: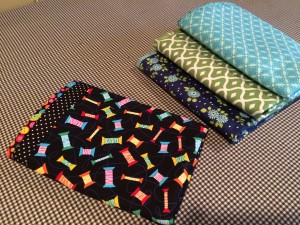 Its probably not too original, because in my mind it's sort of like making a placemat with fleece on the back.  But it folded up nice and tidy in my machine trolley and kept my block pieces in place.  If you'd like to make one for yourself, here is what you need:
1 fat quarter of some pretty fabric you love.
2 2.5″ strips of coordinating fabric for binding
18″ square of fusible fleece
and here is how you do it:
1. Trim your fat quarter into an 18″ square.
2. Using a good hot iron fuse the fleece to the wrong side of the fabric, following the directions from the fleece manufacturer.
3. Sew your binding strips together, fold, press and sew onto the sides to finish her off! No quilting is necessary, but you can quilt it if you like.
I made a few extras for my quilting buddies, and now I'm pretty sure they are getting addicted to their little design boards just like me!
Let me know if you make one by leaving me a comment below.  Or let me know if you have a better idea!  And, as always if you have any questions please contact me!  Happy Quilting!