Pillow of the Month Class at The Quilting Studio
Hello out there!
Just a quick post to let you know about a series of classes that I plan to teach here in Tulsa beginning in 2021 over at The Quilting Studio and Fabric Mercantile. We will meet on the 3rd Saturday of each month to make a different pillow from Edyta Sitar's lovely book Pillow Talk.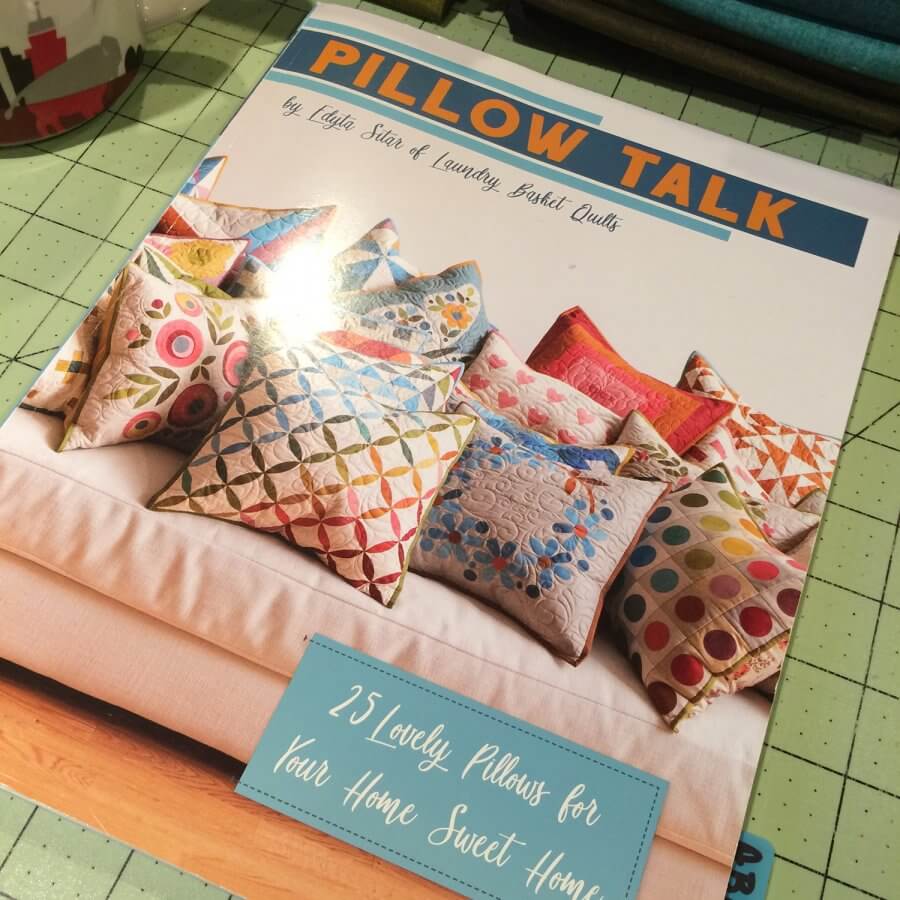 Who's it for?
Knowledge/Skill level: Anyone/any skill level – you just need to know how to use your sewing machine.
If you're new to quilting or haven't had the nerve to jump in, this is a great way to get your feet wet and test the waters. Small projects like pillows are a great way to try new techniques without investing the time or money needed to complete an entire quilt.
In each class, we will learn one new block making technique, and over time we will learn several methods to finish a pillow, several of which are not found in the book, including how to make and attach piping, how to make "faux" piping, various zipper finishing techniques, boxed corners, simple quilting techniques and more! These skills can later be transferred to making quilts or larger projects.
I can attest that seasoned quilters will find these quick-finish projects very satisfying as they are an excellent diversion from long-term projects. You can refine your sewing/quilting skills as you enjoy time with new friends every month in our Pillow of the Month Club. Zelia's shop is a lovely and warm place to relax, reset and enjoy "making" along with others. Plus: You'll leave with a lovely item to refresh your home or gift to a friend.
Below is a list of the classes. Preregistration is available for those classes which are linked below so you can sign up and reserve your spot. (Class size is limited to 10 people.) The cost of each class is $20. You will need to also purchase the book. Bring your own supplies or purchase the kit at the shop. (I believe that the shop has a stock of Edyta's linen texture fabrics if you want to use the same fabrics that are used in the book.)
NOTE: If anyone is interested in participating in an online class, please shoot me a note. I am happy to set this up if several are interested.
Class Schedule:
2021
MARCH: It's a Maze Pillow (Piecing with Triangle Paper)
APRIL: Mother's Day Pillow (Appliqué)
MAY: Into the Blue Pillow
JUNE: Liberty Pillow (Strip Piecing)
JULY: Neon Lights Pillow (English Paper Piecing)
AUGUST: Butterfly Pillow (Appliqué)
SEPTEMBER: Pumpkin Pillow (Appliqué)
OCTOBER: Chevron Pillow
NOVEMBER: HoHo Pillow
DECEMBER: Rainbow Dance Pillow
2022
JANUARY: Sunset & Spectrum Pillows
FEBRUARY: Prism Glass Pillow Foundation Piecing)
MARCH: Love Birds Pillow (Appliqué)
APRIL: Plus One Pillow (Strip Piecing)
MAY: Ring Bearer Pillow (Appliqué)
JUNE: Lone Star Pillow (Strip Piecing/45° Diamonds
AUGUST: Into the Blue Pillow
SEPTEMBER: Dot Dot Pillow (Appliqué & Piecing)
OCTOBER: Flower Garden Pillow (English Paper Piecing/Hand Sewing)
NOVEMBER Kaleidescope Pillow (Using Templates/Foundation Piecing)
DECEMBER: Square Dance Pillow
If you live near Tulsa I sure hope you will try to join us!
Happy Quilting!