5 Lessons from my trip to the 2017 Houston International Quilt Festival
Estimated reading time: 12 minutes
Update October 2019: I am traveling again this year to the Houston International Quilt Festival and will be writing another review on my return. You can read the prequel to that story here in this blog post.
Happy Monday, friends and fellow quilters! I just returned yesterday from a whirlwind trip to the 2017 Houston International Quilt Festival. The event, hosted by its parent company, Quilts, Inc., has occurred annually since the mid 1970's, and takes place at the George R. Brown Convention Center in downtown Houston, Texas. Next to the Paducah show, it is considered one of the premier quilt shows in the world, with over 60,000 attendees from over 35 countries.
This was my first trip to the Houston Quilt Show, so I thought I would tell everyone a little about the experience (both the pros and the cons) from the viewpoint of a first-timer. If you are considering a trip to the 2018 Houston Show, perhaps my notes can help you with your planning. This will be a fairly lengthy post with a lot of details.  But at the end of the post I will sum it all up with my tips and lessons learned (i.e. what I'd do differently next time.)
For years I heard so much buzz about the event, so I was anxious to see it with my own eyes.  I was fortunate enough to go with my friend, Barbara, a former Houstonian, who has been many times.  She definitely knew the ropes, and helped me get the most out of our trip. She warned me from the beginning that we would need several days to take it all in, and she wasn't wrong.
The Planning Stage.
Before I get too much into the details of our trip, I should tell you a bit about how we prepared. I think it was late July when we actually decided to go. We picked our travel dates, and Barbara went online to find our accommodations.  It turned out that the Hilton that adjoins the George R. Brown (GRB) was already booked solid by this point, so she opted to book rooms at the Hampton Inn which sits about a block east and north of the GRB.  I wasn't sure how this would work out for us, but in the end it was perfect.
Around mid-August, I decided to visit the 2017 Houston International Quilt Festival online to see if we should pre-purchase our tickets/passes. To my amazement I realized that not only was it a huge show with many vendors, but there were many educational opportunities. Unfortunately, many of them were already filling up. A quick call to Barbara, and we plotted out which classes we would take, and completed our online registration.
I should say that if you go online to register, you will not get an Amazon check out experience. The site could use some upgrades, but for an organization on a limited budget and processing tens of thousands of quilters, it gets the job done. I did find it difficult to find courses that interested me as you had to wade through every course description.  I wish there had been a better search functionality. It took me a while to find things I was interested in that still were available, but eventually I found a few classes and lectures that would work.
But here is where it got a bit weird.  As soon as we "checked out" we each immediately received an email stating that our registration had been received, but the email stated that we were not yet officially confirmed until it had been processed, which would take a few weeks. Once confirmed, our badges and official class schedule would be mailed to us.
Hurricane Harvey hit 6 days later.
Like every other interested quilter we wondered if the show would actually happen, and were so relieved to hear that it was still a go. We figured the processing of our registrations would be delayed, but by the last week of October, neither of us had received our badges or schedules. I shot a quick email to Quilts, Inc the week before we were supposed to leave, and was advised to simply check in when we got there as they would have our information in their files.
We left Tulsa early Wednesday morning and checked into our hotel around 4:45pm, just in time to freshen up and make it over to the "preview."  Because we had signed up for classes, we were entitled to have 2 hours to view the exhibition before it opened to the general public Wednesday evening. (This is also true if you are an IQA member.) So, a big plus to registering for classes is you get to shop the vendors in a less crowded setting.
But there was one little snag…
We walked up to the ticket counter, and they did not have our names in the system. We started fumbling for the email letters as proof, and after about 5 minutes of wondering if that clunky website had been a spoof site and taken our money, we were directed to go inside where the class registration people would have our information.  So, a good thing to know is that class registrants are treated a bit differently from people who only purchase passes/tickets only. If you only purchase a ticket, the information is shared with the ticketing service of the GRB, but if you register for classes you need to check in inside where the class registration is set up.
It would have been nice if the ticketing people had been aware enough to know to send us directly to the class registration desk, but when we arrived at the registration counter we were greeted by a friendly young man named Casey. He quickly set our minds at ease, found us in the system, and got us started on our way. From that point on, every attendant or volunteer was extremely well trained and helpful, so kudos to the staff of Quilts, Inc. for a well staffed event.
Thoughts on the vendor exhibits:
I came prepared with a list of things I knew I wanted to purchase but was completely unprepared for the sheer volume of exhibitors.  While this was my first Houston show, I have attended quite a few quilt shows in the past.  I still wasn't prepared for what I saw. The exhibitors area at  the Houston show is just MASSIVE.  There is no other way to describe it. That first night, we walked about 1/2 of it before we left for dinner around 9. When we returned to our hotel, we made a list of places we wanted to return, and the next morning, we walked the other half, returning to the the vendor booths on our lists. All in all, we spent over 6 hours just in the Exhibits hall.  We ignored any booths that were clothing or jewelry (not on our priority list.) and certainly did not spend much time at most of the booths. Just for reference, here are the booths that intrigued me the most:  Blend fabrics, Robin Ruth designs, Sew Kind of Wonderful (Jenny Pedigo) and Studio 180 Designs (Deb Tucker). I liked Blend fabrics because I think they are just coming out with some incredible designs.  The other booths all spotlight specialty rulers. If you've poked around this site much at all you know I am a believer in Creative Grids rulers, but I also have a huge admiration for anyone who has worked out the kinks and developed specialty rulers that make it easier to create fantastic quilts. I've used the Deb Tucker rulers before with great success to work out some issues I had with an Edyta Sitar pattern, so I picked up a few of her other rulers on this trip and can't wait to use them.
I'm at a point where I don't need much as a quilter, but I came away with several new rulers to try and a few patterns that I plan to dig into next year.  One of them is an intricate applique pattern on whole cloth designed by Susanne Cody out of New Zealand.  (I'm already pulling fabrics from my stash, though!)
Thoughts on the quilt exhibits:
I didn't spend as much time looking at quilts as I thought I would. Again, the display is massive, and after a few hours, I was on sensory overload.  The art quilts had more gravitational pull on me than the others. While I don't really consider myself a true art quilter yet, I am mesmerized by them. Perhaps it was because I collected stamps as a kid, or because I mourn the slow ways we communicated in the past, but this piece moved me to tears, even from a distance. It so obviously depicted something ripped from her, and I instantly felt the sadness.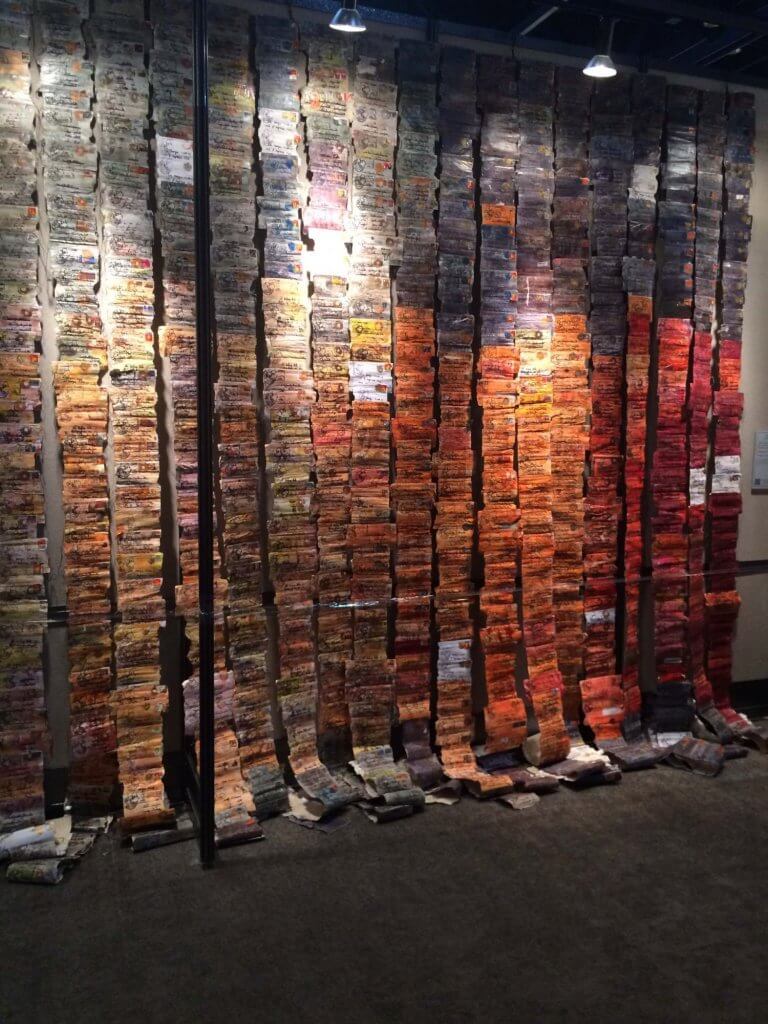 Thoughts on our classes:
The first "class" we attended wasn't really a class as much as it was an event.  Quiltapalooza is a fundraising event in which participants wear an "ugly sweater" and compete for prizes in fashion show runway style. This year, there was also a Paper Doll Contest.  All of it was in good fun and the money went to a worthy cause. The ticket price included a box dinner. Nothing fancy. Mine was good, Barbara's not so much. They give out lots of prizes and you get a few free things for attending, but there were about 400 in attendance. One lucky person walked out with a new Baby Lock.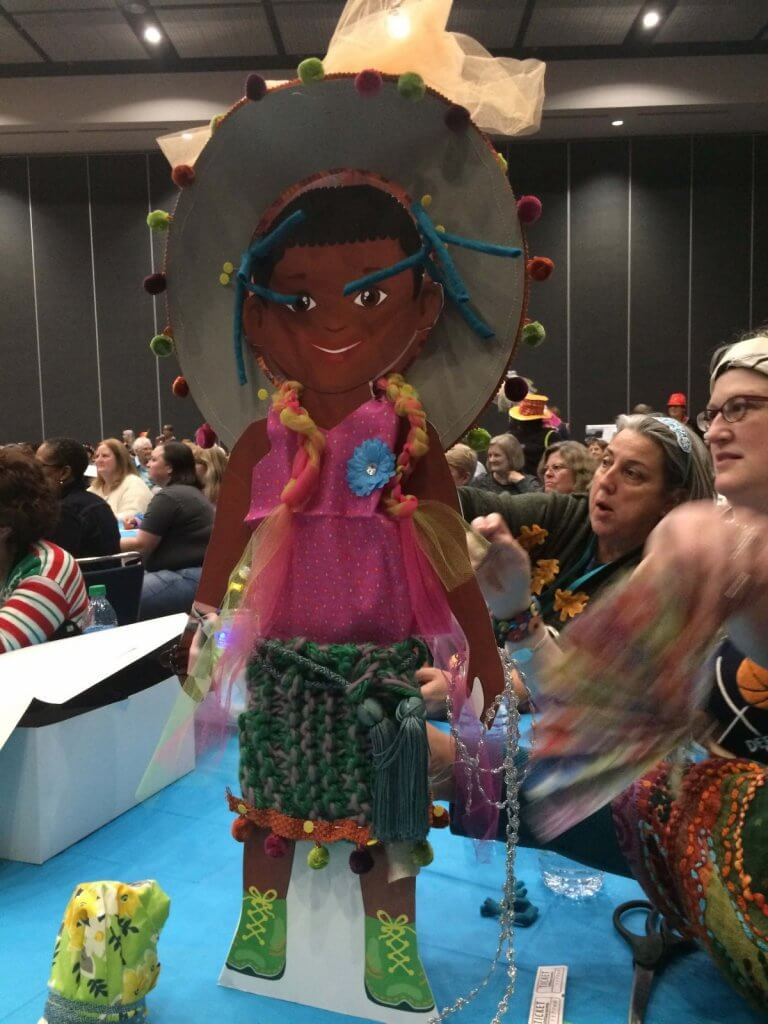 We also attended several lectures and a Chair Yoga class.  In each case the instructors/lecturers were friendly, knowledgeable about their topic, informative, eager to answer questions, and were courteous of time limitations. (That's my way of saying they started and stopped on time, which is a big deal to me!) In a few cases, we wondered when we first walked in if we should position ourselves in case we needed to sneak out. But each time, we found that the lecture was beneficial. As my daddy used to say when I would complain about instructors as a child, "You can learn something from every teacher." He drilled that into me, and I've learned he was right. Even a teacher who seems to have a totally different style from me often has some words of wisdom gleaned from all the years they've spent quilting.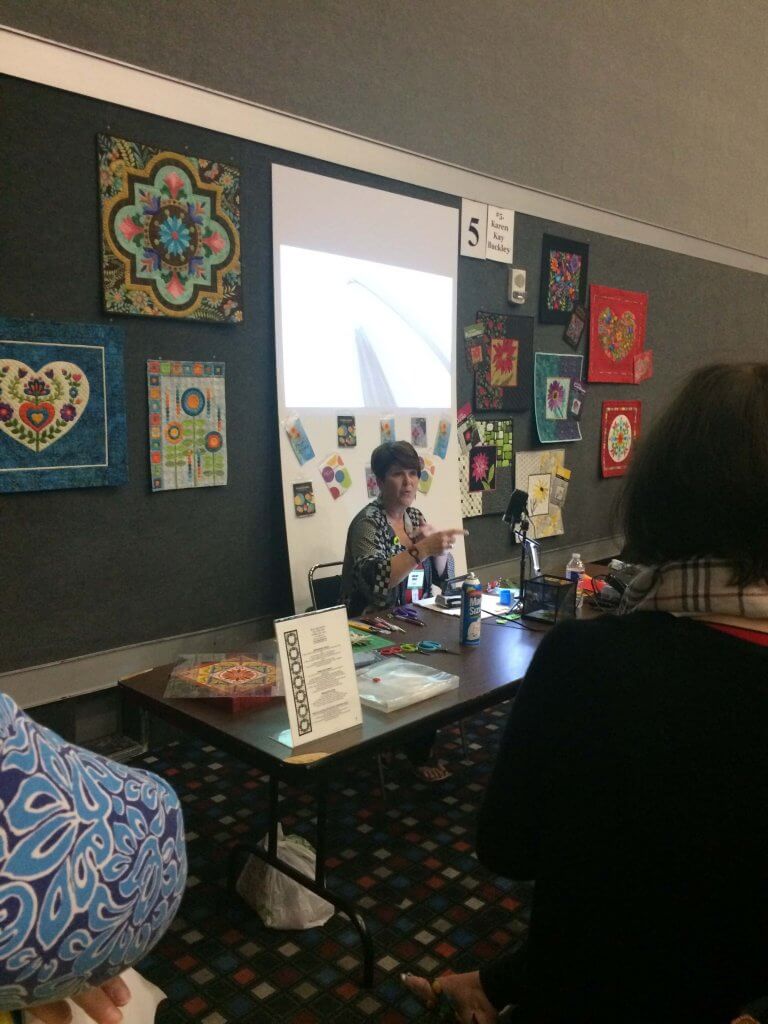 And you've gotta eat
Food is a big deal. We all get cranky if we get hungry or if we steer off course too much from our dietary needs/restrictions. Barbara and I opted to bring down an ice chest full of lunch options. (Sandwich makings, fruit, protein bars, chips, nuts, water, etc.)  We were able to do this because we drove, but if you fly and can figure out a way to do it, I think it offers a lot of benefits. Not only did it make it easier for us to make healthy choices, but it allowed us to take a break from the noise and crowds for awhile each day. We used that time to rest and process what we saw, making notes of where we needed to return.  In addition, we saved a bit of money, as food choices at the GRB are a bit pricey, allowing us a bigger "quilt spend" budget!
And finally, a few thoughts on Houston
I lived in Houston for four years as a child, and often visited in my teenage years. So much has changed, but some things were still familiar. The city has been though so much the past few months. I was glad, in my own little way, to throw some support to the Houston economy. The downtown area is safe and well lit, and I felt secure the entire time I was there.
As we walked the exhibitors booth the first night, the Astros were busy clenching the title of World Series Champions. Many were streaming it on phones and each time the Astros scored, the floor would erupt with cheers.  One of the coolest parts of our trip, is that we got to share in that little piece of history with this great city.
I can't guarantee your trip to Houston will give you an opportunity to celebrate with World Series Champions. I can guaranteed that with a little foresight, you can have a great experience at the Houston International Quilt Festival.
5 Lessons Learned from my trip to the 2017 Houston International Quilt Festival:
Plan early. Book your accommodations at least 6 months in advance.  Register for classes as soon as registration opens for best course availability. (If we had planned just a few months earlier, we would have had many more class options.)
If possible, plan your trip so the majority of your time is during the week rather than the weekend. The mid-week crowds are large, but it gets even crazier as the weekend approaches.
There is no way to see it all, so have a strategy for your time.  If you are there to see quilts, plan so that you can take in more of the quilts.  Likewise, if your main focus is to see vendors and new products. Come with a list of things you'd like to purchase and/or learn. This will help you focus when viewing the more than 1000 vendor booths and any demonstrations.
Soak it in in small bites.  It will overwhelm you to try to see every quilt displayed or every vendor booth in one chunk.  Also, be aware that rolling carts are not allowed on the exhibit floor. It's helpful to have some tote bags with you. I liked going back a few times so that my loads weren't as heavy.
Take advantage of educational opportunities while you are there.  You've traveled a long distance, and some fantastic teachers have traveled great distances as well. Make the most of it.  Even if you only learn a few pointers, those could just take your quilts to the next level.
So, what about you?  Have you been to the Houston Quilt Festival, and did you enjoy it?  What tips would you give me?
Thanks for reading, and Happy Quilting!
Maria