Bohemian Dresden – A Custom Baby Clothes Quilt
Estimated reading time: 6 minutes
Earlier this year I made a custom baby clothes quilt for a client. That sentence sounds so matter of fact and professional, doesn't it? Just another day in the life of a quilt designer, right?
NOT.
It's important that you know that this wasn't just any client.  This client sits right next to me at my day job.  I knew if I didn't get this quilt right, then it would be hard to show my face at work…
For a LONG time!
Fortunately, she is a very happy client.  Last week I suggested that we write up a post about the process, and she agreed to help me. We thought we could share what we both learned from the process. Whether you're a quilter or someone who wants to have a custom baby clothes quilt designed, we hope we can offer you a few tips to help you out.
SIDE NOTE:  Design and Quilting is my thing.  Journalism and copywriting is HER thing, so I'm super excited to have her input on this post!
How it all began
Shortly after Ally came to work at our office, she discovered I was a quilter. She quickly let me know that she was saving her daughter's baby clothes to make a memory quilt. She had several concepts in mind, but wasn't really sure which way to go. Once she decided to pull the trigger and hire me, it took us several months to nail down a design. You would think that with her having a few ideas already in mind, it would have been fairly simple. But the trick was finding something she liked that lent itself to using the small pieces of baby clothing we had to work with. Once I showed her a Dresden Plate design, she knew that was the quilt for her.
BTW – the pattern for the quilt we ultimately came up with is available for purchase and there is a link to it at the bottom of this post.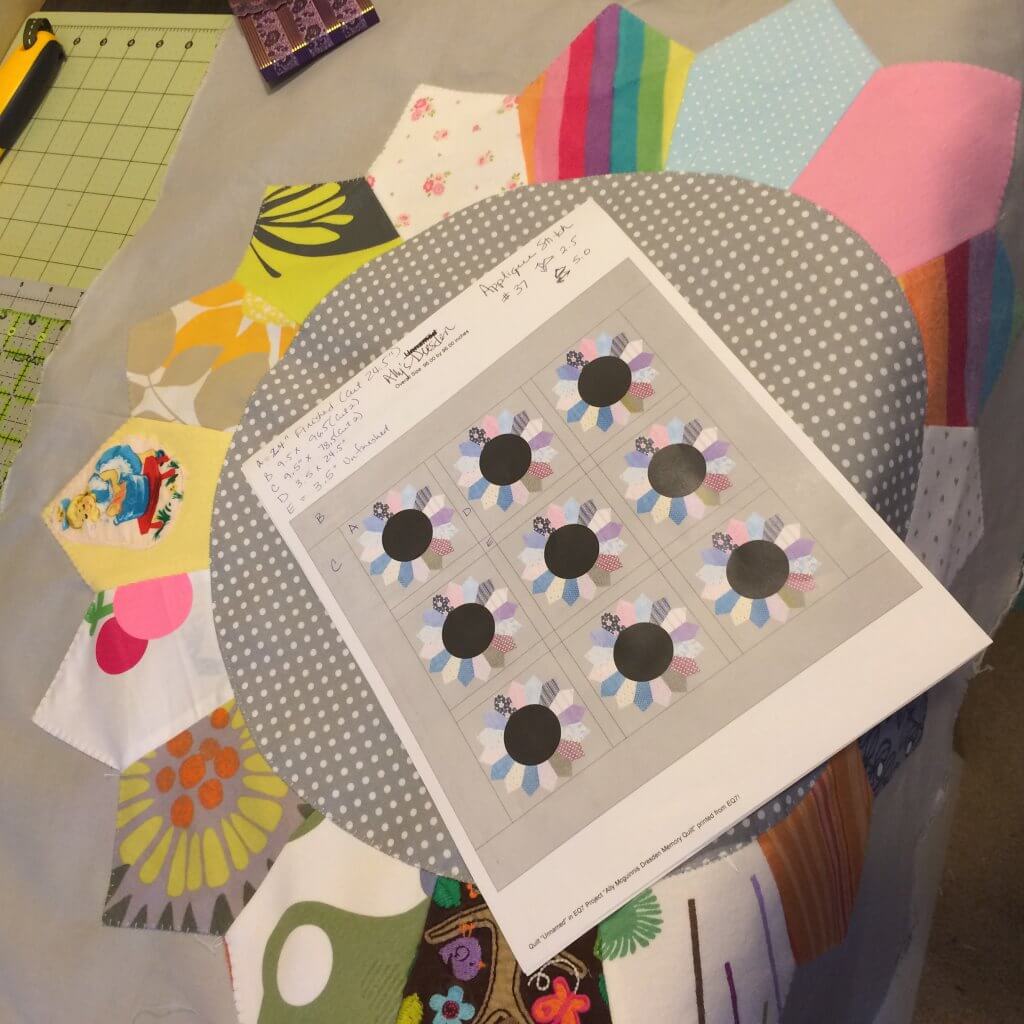 It was totally worth the extra time to get the design right.  If you are working with a client to design a custom quilt, I'd say don't rush the design phase. Spend as much time as you can learning your customer's preferences and personality. The nuances often are discovered only after they've seen several different design iterations. Then something will strike a chord with them, and you'll know you are on to something.
One of the first concepts Ally suggested was to make a design that involved umbrellas.  I showed her a few things, but had this nagging feeling that it just wasn't right for her. I think it's important as a designer to follow your instinct.  Show a client something they haven't thought of yet…something your gut tells you will work well for their situation. They may reject it, but sometimes it will open their mind up to the possibilities.
Ally also knew that she wanted a fairly large size quilt to cover her king size bed.  If you are considering making a quilt, it is helpful to know up front what size you want.  The larger the quilt, the more you will need to invest in labor and materials.  If you are unfamiliar with bedding sizes, you can check out my bedding size chart linked up here.
Ally's Custom Baby Clothes quilt Experience
"I had been planning this quilt for years, and I'd saved Juliet's baby clothes that I loved the most. I had a wide range of colors and design, which inspired me to go with a bohemian print. It was very overwhelming for me, but Maria kept me focused and helped me envision how much more it could be. We took a very different route, and I'm so glad we did."
Tip: If you're trying to decide what items you should save, check out my post on "things you'll wish you had saved."
I asked Ally what advice she would give to someone seeking to have a custom baby clothes quilt made. Here is what she said:
Be flexible. My finished product is not the same as what I envisioned. It's so much more beautiful that I could have imagined.

Pick items that will match in some way. Even in chaotic designs there is something that blends everything together.

TRUST your designer.

Adjust your budget based on the fabric you select for your backing. Or, custom quilting

Save, save, save your money.  One of a kind items aren't cheap, but they are worth it.

Think about what you want for at least a year….while you're saving!

Spend a lot of time doing your research.  Learn the quilting vocabulary so you know what things like batting and backing mean. This will help you better communicate with your quilt designer. (You might want to check out the Quilting glossary Maria set up on this website!)
A few photos of the quilt in various stages of production:
First, all of the baby clothes had to be deconstructed and stabilized.  Once that was done, I used a tumbler ruler to cut the blades. They whip up pretty quickly.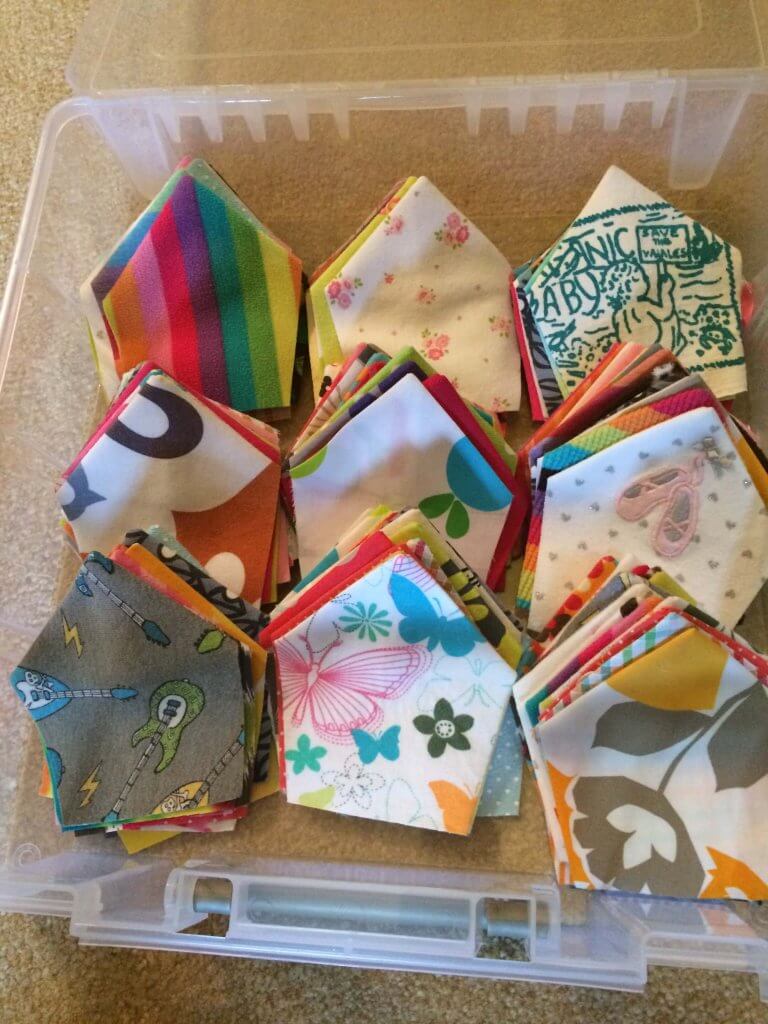 We chose a grey solid for the backgrounds, and a grey dot fabric for the centers of the dresdens. The neutrality of the grey allowed the various colors in the clothing scraps to pop.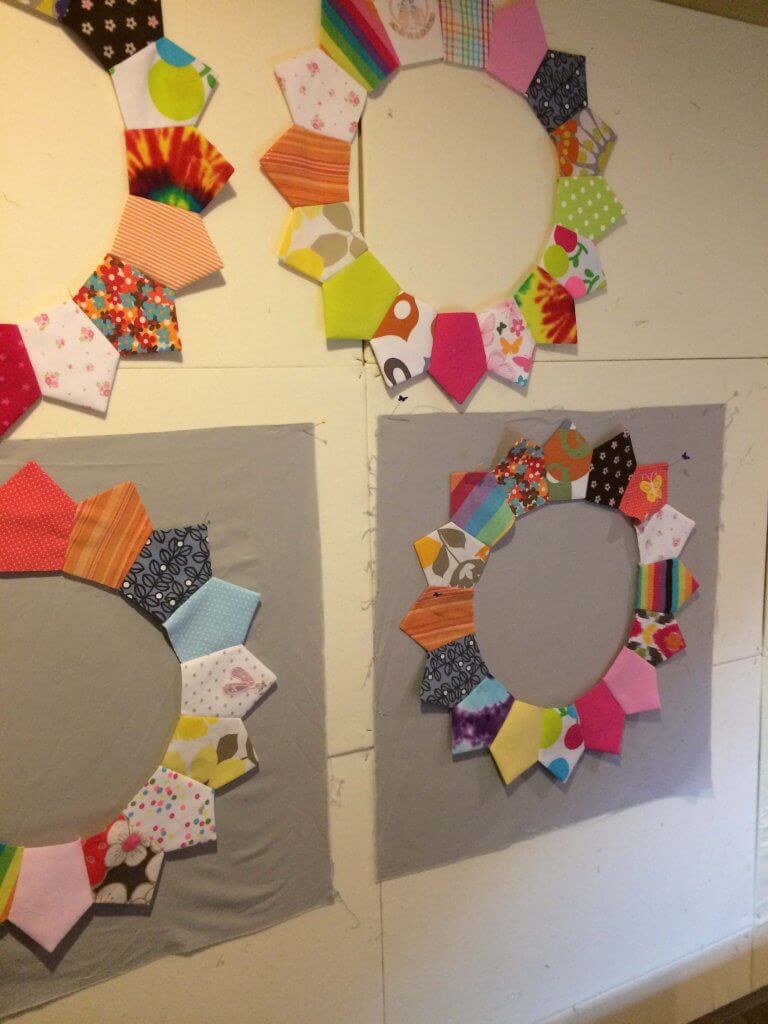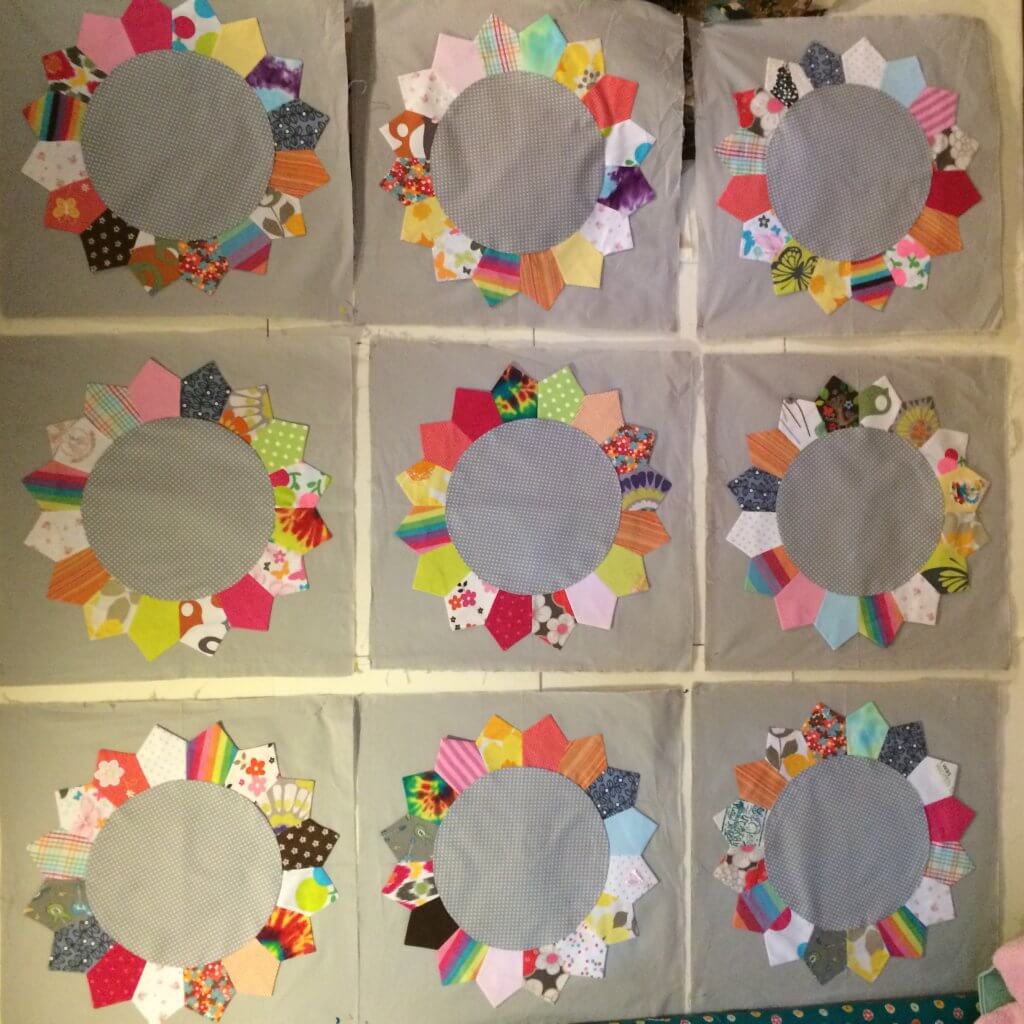 As I got to know Ally, I realized she was a Hippie at Heart. The crazier we could make it, the happier she was going to be. We salvaged as many of the appliques and patches from the baby clothes as we could and appliqued them back on to the centers of the dresdens.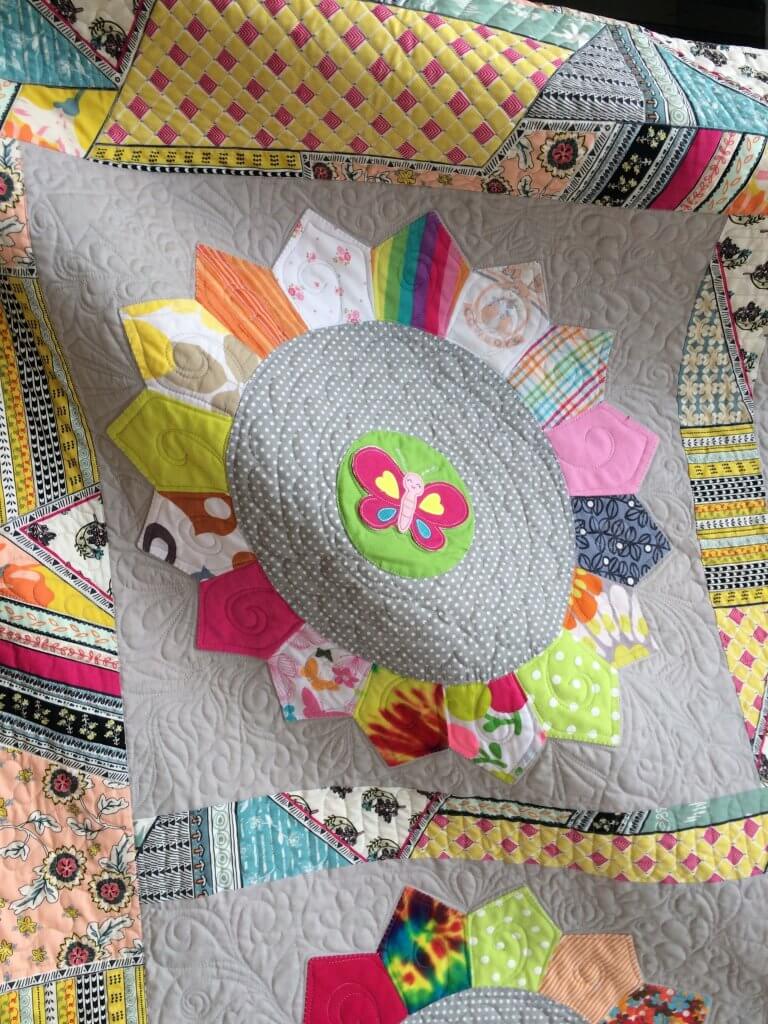 Ally chose a print for the sashing and backing that totally meshed with her personality – Indie Boheme by Pat Bravo for Art Gallery Fabrics. It added the perfect mix of crazy to the quilt.  The beautiful custom quilting was done by Ann Olson of Ann's Quilt N' Stuff.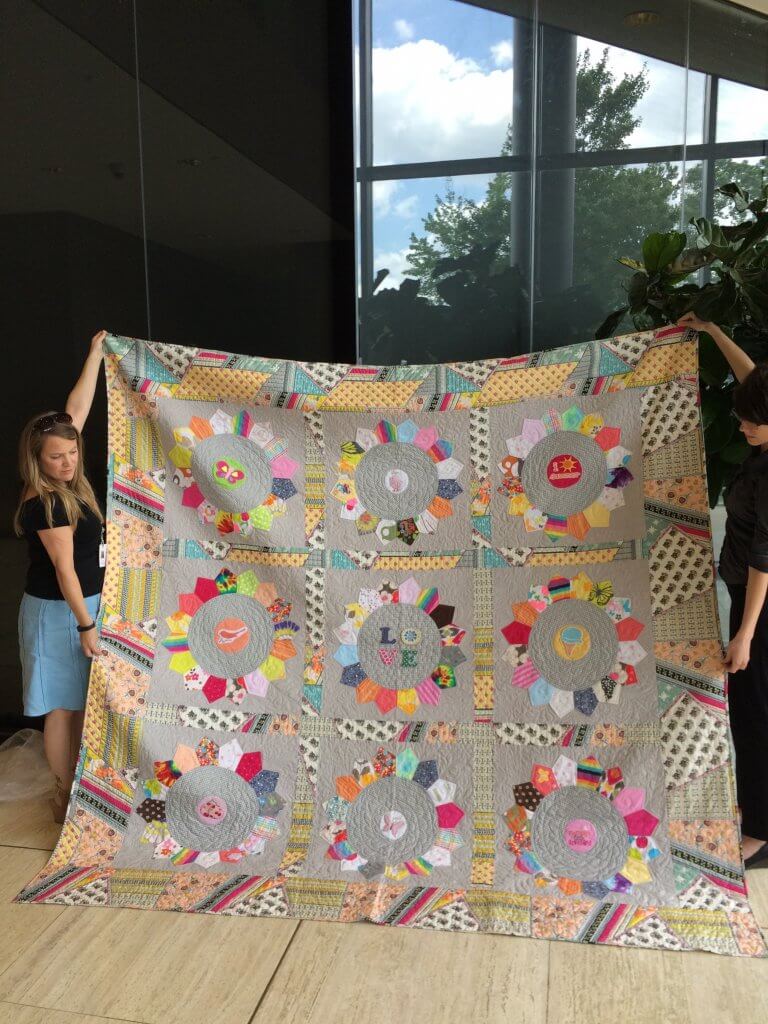 If you think you'd like to make a Boho Dresden, I have written up the instructions and they are available for purchase in my Etsy Shop.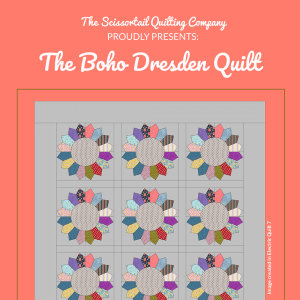 You can find a list of ALL my patterns here.
So, how about you? Do you have any thoughts or ideas on making a custom baby clothes quilt? If so, we'd love to hear about it, so leave us a comment below!
Happy Quilting!
Maria (with help from Ally)