Memory Quilts from clothing: Things you will wish you had saved
Occasionally, someone will contact me and ask me to make a memory quilt from clothing items left behind by a special loved one. Or sometimes they want me to make a memory quilt from clothing their children wore when they were younger.
Memory Quilts from Clothing are the thing now
T-shirt quilts and other memory quilts have become quite popular over the past 10 years, and recently a young mom asked me what kinds of items she should be saving in case she decides to have one of these made in the future. When people ask, I like to tell them this story:
The memory shirt that got tossed
This is our son Nathan when he was in Kindergarten. Take note of the stylish striped shirt.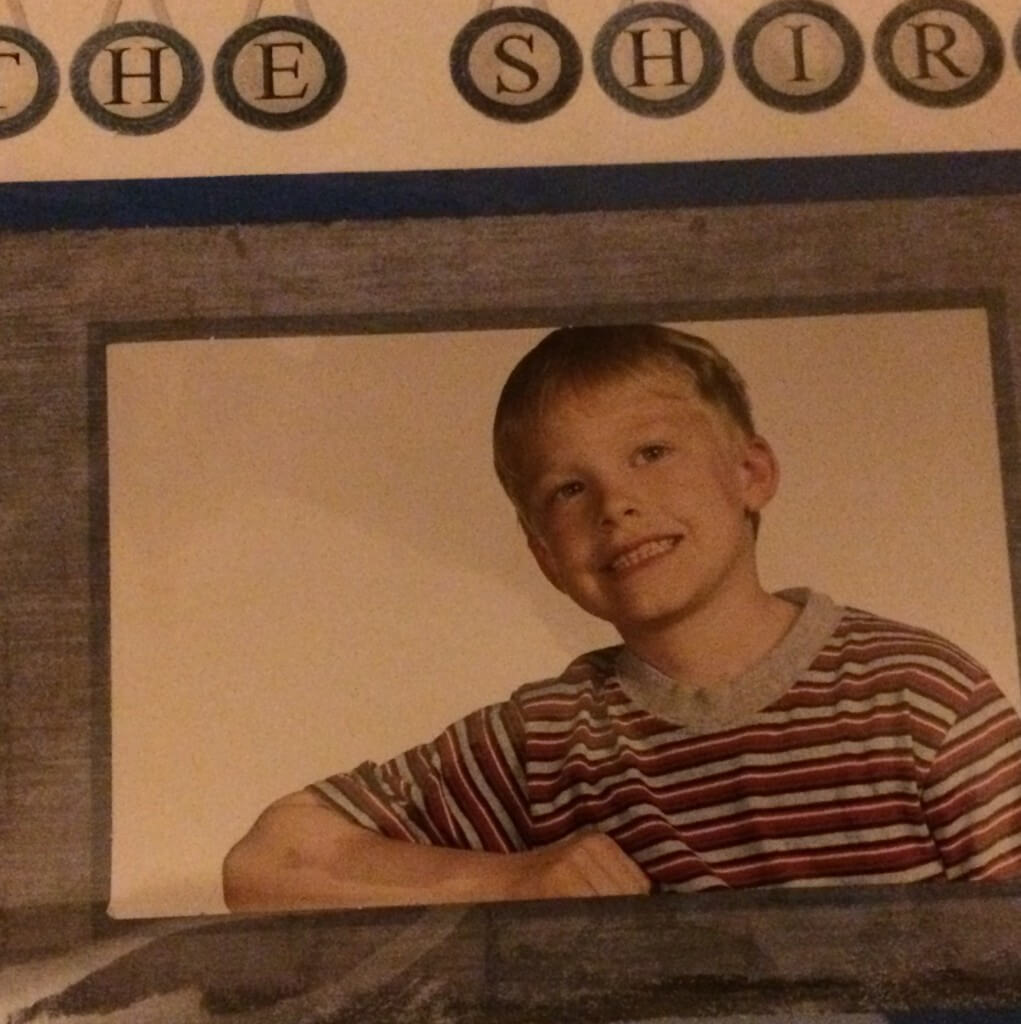 When Nathan was in Middle School I finally got around to scrapbooking his Kindergarten year. (Yes, I'm one of THOSE moms!) I smiled as I found picture after picture of him in this same gray striped shirt, all taken on different days. I remembered all the mornings I had instructed him to go back upstairs, return the shirt to the dirty clothes hamper and come down in a clean shirt. Oddly, as I inserted the pictures, I found myself wishing I still had that shirt, wishing I still had a tangible thread to help tie the memory to my brain.
Unfortunately, the shirt was long gone.
It might have been donated to Goodwill, but I'm pretty sure I burned it!
This side of parenting, that shirt represents a very sweet memory. How cool it would have been to include that shirt in one of the quilts I've made him!
There are so many fabric items from my boys' childhood that I wish I could bring back to life, but unfortunately, I was so focused on controlling the clutter that I didn't save some things I should have kept. Yes, there are many things that need to go when they are no longer in use, but there are some things you will want to save.
There will come a day when you will wish you had kept more of those ugly grey striped t-shirts.
Things I wish I had saved:
After I tell that story, I tell them about some other things that I wish I had saved. They are all tied to important times and memories.
Baby outfit that was worn the first time we took him to church
St. Francis Hospital Newborn t-shirt
"I'm the big brother" t-shirt
The little gymnastic t-shirt
T-shirts from church musicals
Red Park Plaza Preschool t-shirts
The Robin Hood Hats we made for a 4th Birthday Party
Halloween costumes, Flannel Christmas PJ's, The list could go on…
So far, I'm sounding like the kind of mom who threw everything away as fast as she could. While I am no fan of clutter, I did keep a few things, and when the time was right, I make both my boys a "raggi-tee" shirt quilt. I had seen some rag quilts in the quilt shop, and I envisioned a cool way to quilt them that I thought my boys would like. My boys loved them and still use them quite a bit.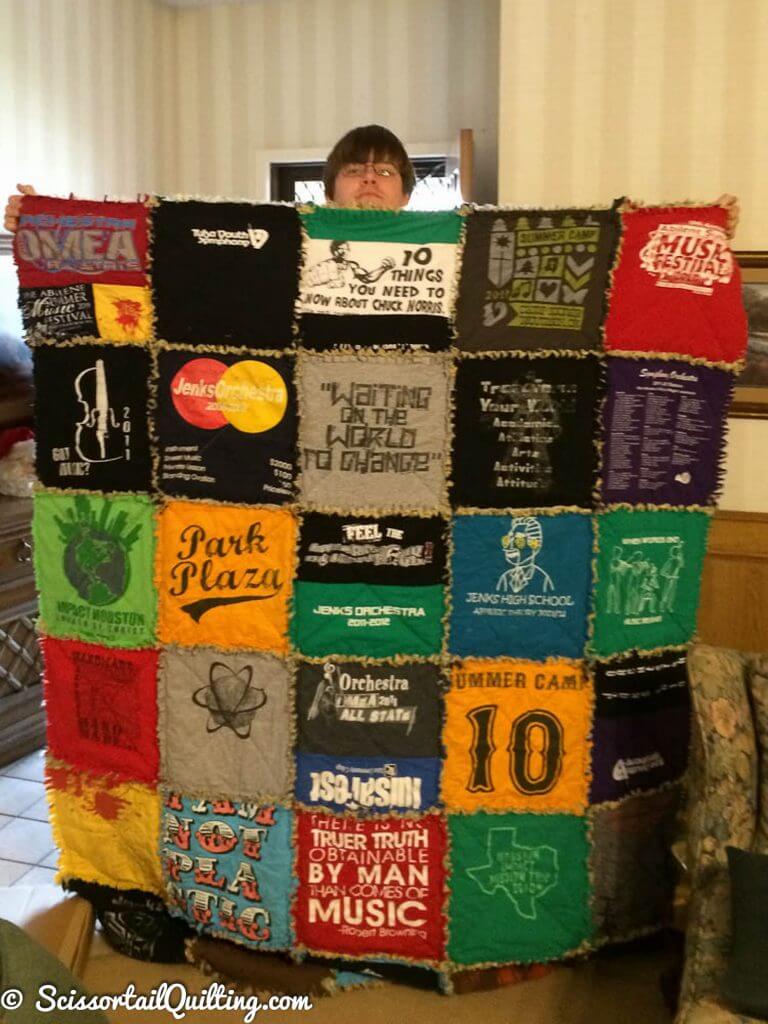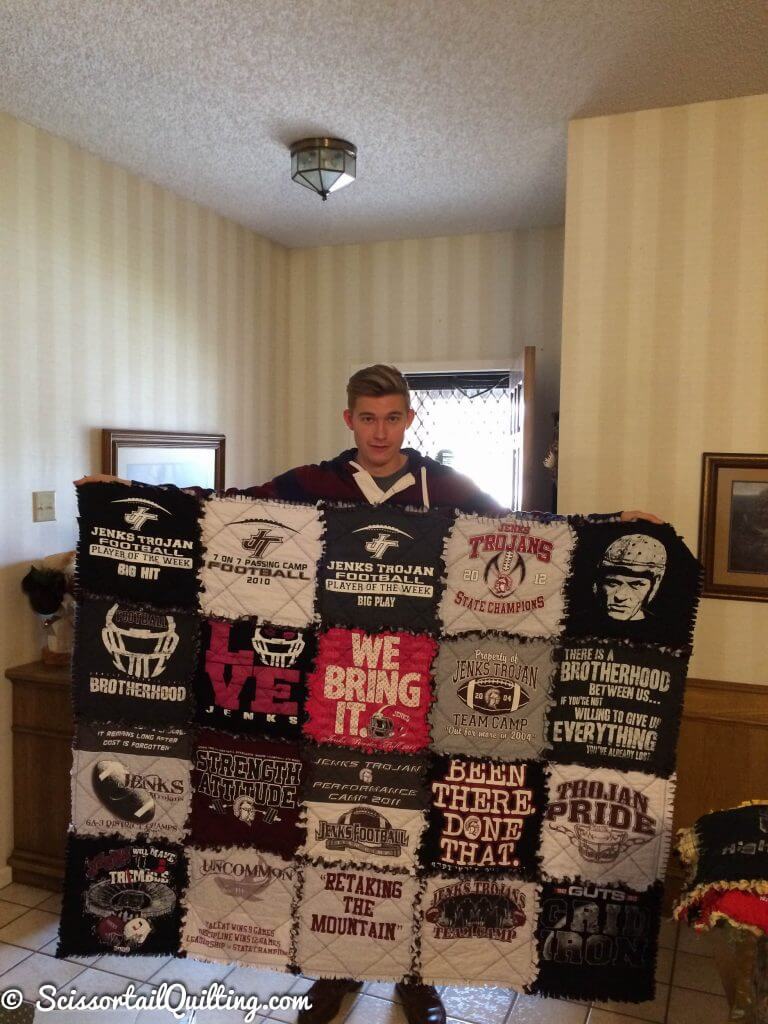 The cool thing about rag quilts is that they are easy to make, so with just a few sewing skills, you can easily make one. I wrote up the pattern and you can purchase it here if you think you'd like to give it a  try.
Thing's you will wish You had saved:
So here is a list of things you can consider keeping to use in a future memory quilt:
t-shirts (especially ones from school, church or sporting events)
baby clothes (If you are leaning this direction, keep ALL of them. Baby clothes don't have a lot of fabric.)
neckties
sports/team uniforms
Men's cotton dress shirts. (These make amazing quilts, as they are typically made from quality fabric)
Wool flannel shirts
cotton skirts (these usually have a large amount of usable fabric)
old blue jeans (denim is heavy, but it makes a great picnic quilt)
baby blankets
Finally, I tell anyone who is considering making a memory quilt from clothing that they should ask themselves two questions as they are gathering and saving materials. As their kids grow and as they sort through all the accumulated paraphernalia that goes along with parenting, they should use this litmus test before they toss it:
1.) Is there a sweet memory associated with this clothing item?
2.) Is there an annoying memory associated with this clothing item?
If the answer is yes to either one of them, you probably want to keep it. Because for some weird reason, those annoying memories have a way of sweetening with age, and somehow they end up in the sweet category.
Happy Quilting!
Maria
Happy Quilting!