A Quilt Finish: Christmas Play Ball Quilt
Estimated reading time: 3 minutes
It occurred to me last week that since I revamped the website, I have not included any pictures of finished projects, so this is going to be the first in a series of posts where I get caught up documenting some of my work and sharing some quilts I've made. This first post highlights a Christmas themed Play Ball Quilt that I gave my parents this past Christmas.
Admittedly, I didn't get as many quilts finished this past year as I would have liked. In my defense, I have spent a lot of time this year working on "the world's greatest quilting website." (Not my opinion, it's just what our boys affectionately call this little corner of the internet. I would be the first to tell you that it has a long way to go.  As in YEARS of work! I tell myself it's like making a quilt. By hand!)  But I digress…
Back to the Play Ball Quilt
Late in 2016 I picked up a jelly roll of 3 Sisters fabric. I think the line was named "Under the Mistletoe."  It was a Christmas themed fabric, and it had the look of something I thought my mom might like. So, I went on the hunt for a pattern that would make good use of a jelly roll.
I found it in Volume 1 Issue 3 of Missouri Star Quilt Company's BLOCK magazine. A sweet little pattern called "Play ball" and the photos in the magazine spread featured the quilt at a baseball park in the summertime.  (When you produce a monthly magazine, these things are important to you.)  As I looked at the "baseballs" I realized that they could just as easily represent Christmas ornaments. So I ordered some background fabrics and got to work.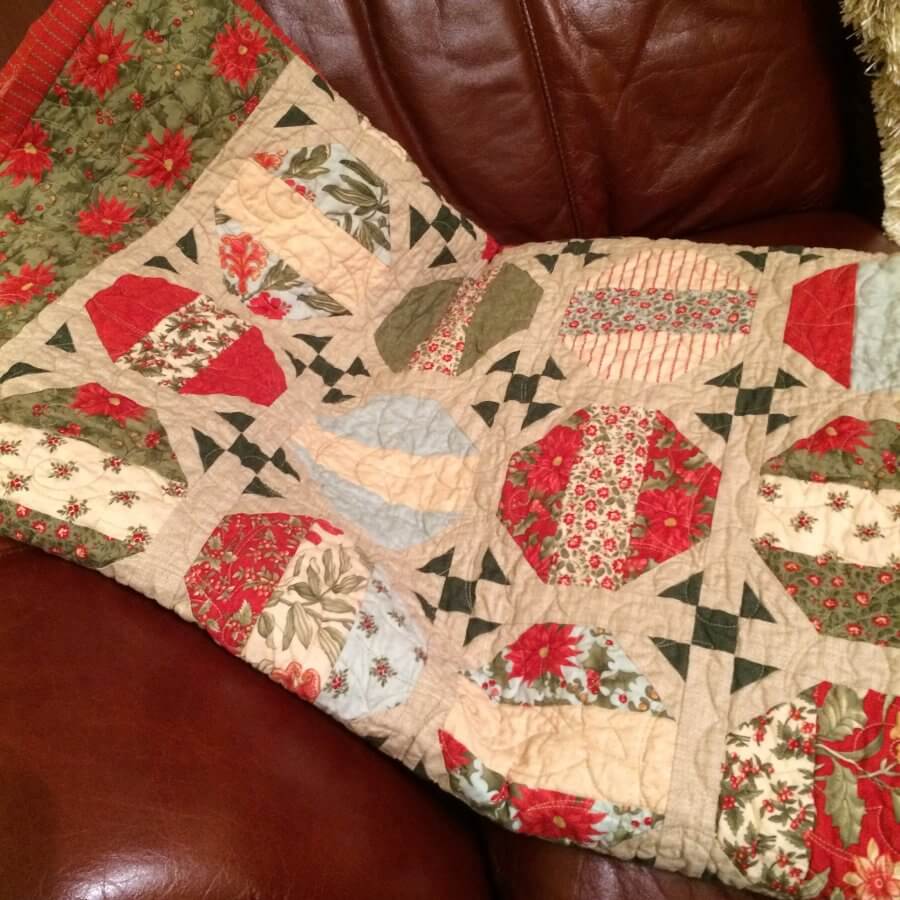 The pattern was quick and easy and went together painlessly. Basically, it's a variation on a Snowball Quilt Block.  You sew three strips together, then snowball the corners twice. My friend Dana of Swallow's Nest Quilting did a beautiful job on the edge-to-edge quilting.
So, if you're looking for a good jelly roll pattern, you might want to give this one a shot.
Happy Quilting!
Maria