The Crosshatch Quilt Pattern: A "Classic Beginner" Quilt
Estimated reading time: 5 minutes
Today I'm sharing a new quilt I created that I call "The Crosshatch Quilt Pattern." This quilt has some humble beginnings, so I'm just going to tell the story…
The Crosshatch Quilt Pattern started with a quilting class
Late in 2019 my friend Barbara dragged encouraged me to take a quilting class with her that was offered through our guild. Actually, I love going to classes with Barbara but often have a hard time justifying the time. The class turned out to be an excellent experience with an excellent teacher: Donna Lynn Thomas. (I had hoped to link you to Donna's website, but apparently it is no longer active. Same with all her social media accounts. If anyone reading this knows how to contact her, please reach out to me via my contact form.) The class was called "Shimmering Leaves", and we made these blocks in the class.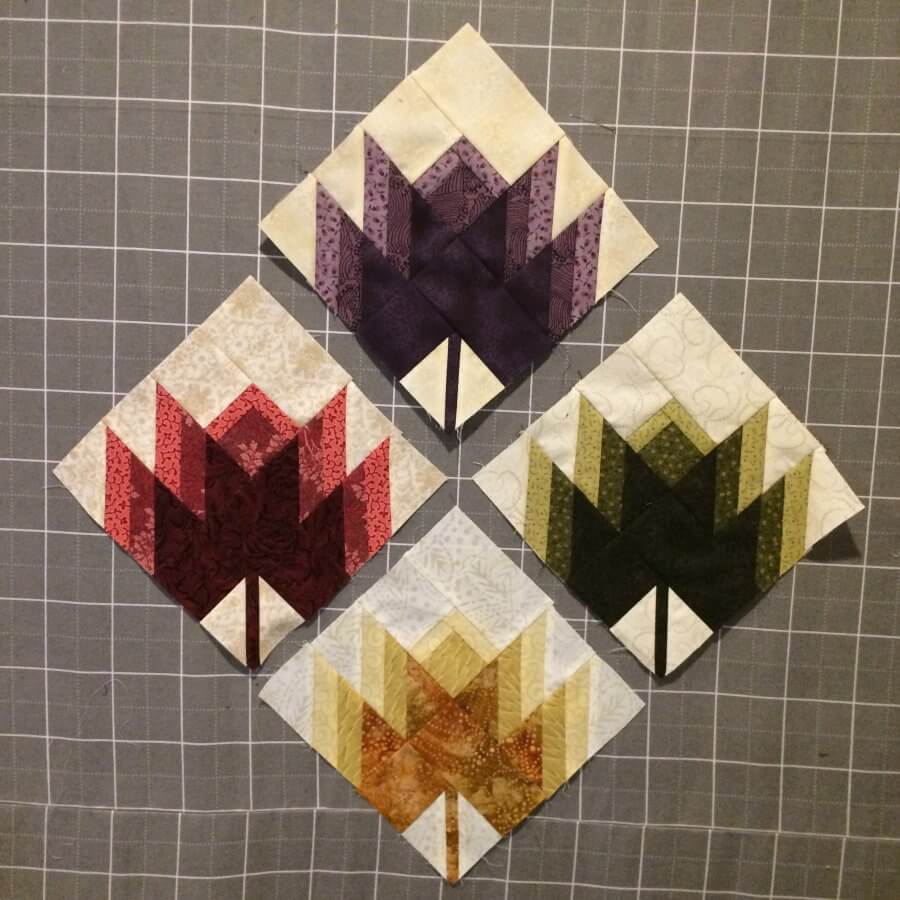 Before she would let us start on those blocks we had to pass a test. She gave each of us three scraps of fabric that measured 1.5″ by 3.5″. We were to sew the long ends together to make a "rail" unit, then she came around and measured the inside piece with a 1″ wide ruler. If the ruler fit perfectly in between the seams, we passed. If it didn't fit or if there were large gaps on the side, then we had to do it again. Fortunately, I passed the second time (I was on my travel machine that I hadn't used in awhile!)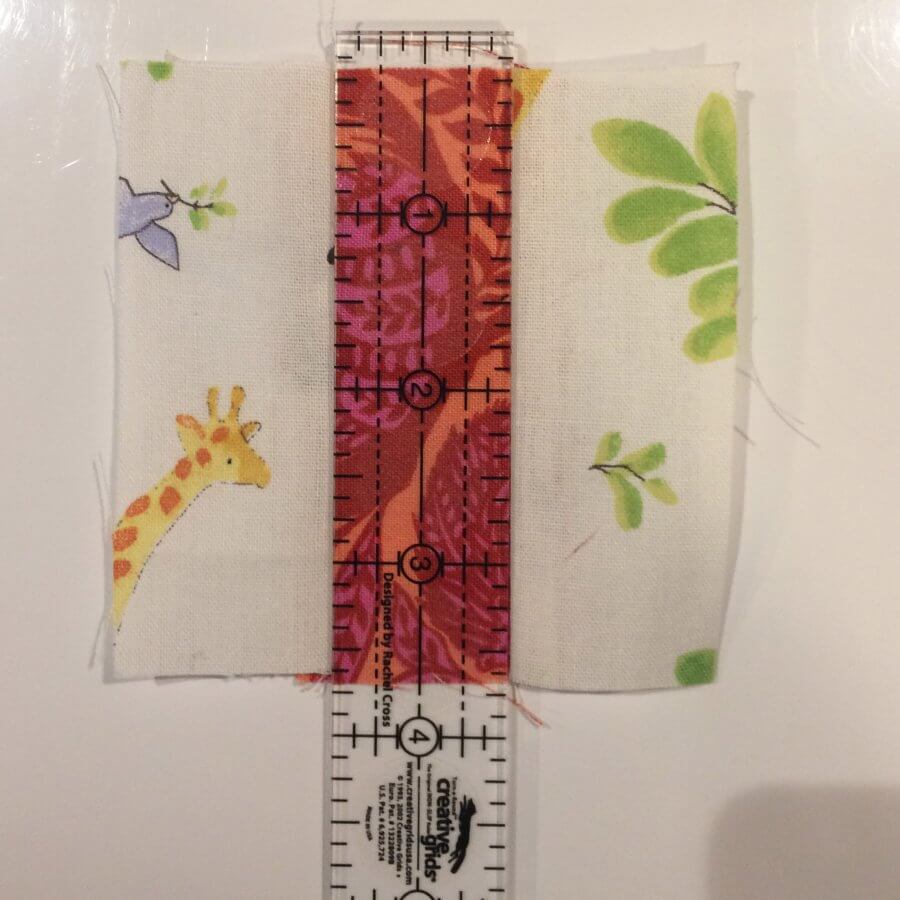 Thou shalt test thy 1/4″ Seam
This little test was measuring the accuracy of our quarter-inch seam. Donna encouraged us to do this test every time we sat down to sew. When I got home from the class, I dug through my scraps and spent the entire evening making a pile of test strips to place beside my machine.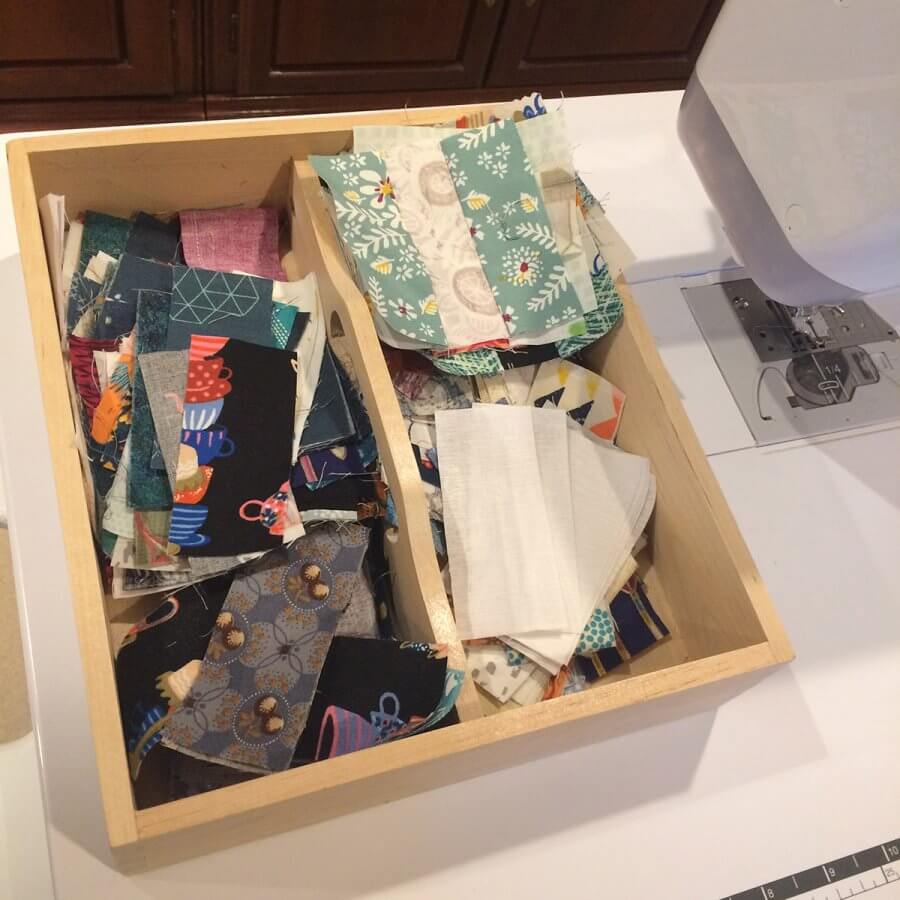 As the months went by, I generated a very large pile of "test" patches and a plan started forming for how I wanted to use them.
These test patches are actually rail fence units, which are a very classic piece of patchwork with infinite design possibilities. Earlier this year, I drew up my idea, wrote up the pattern and put the thing together.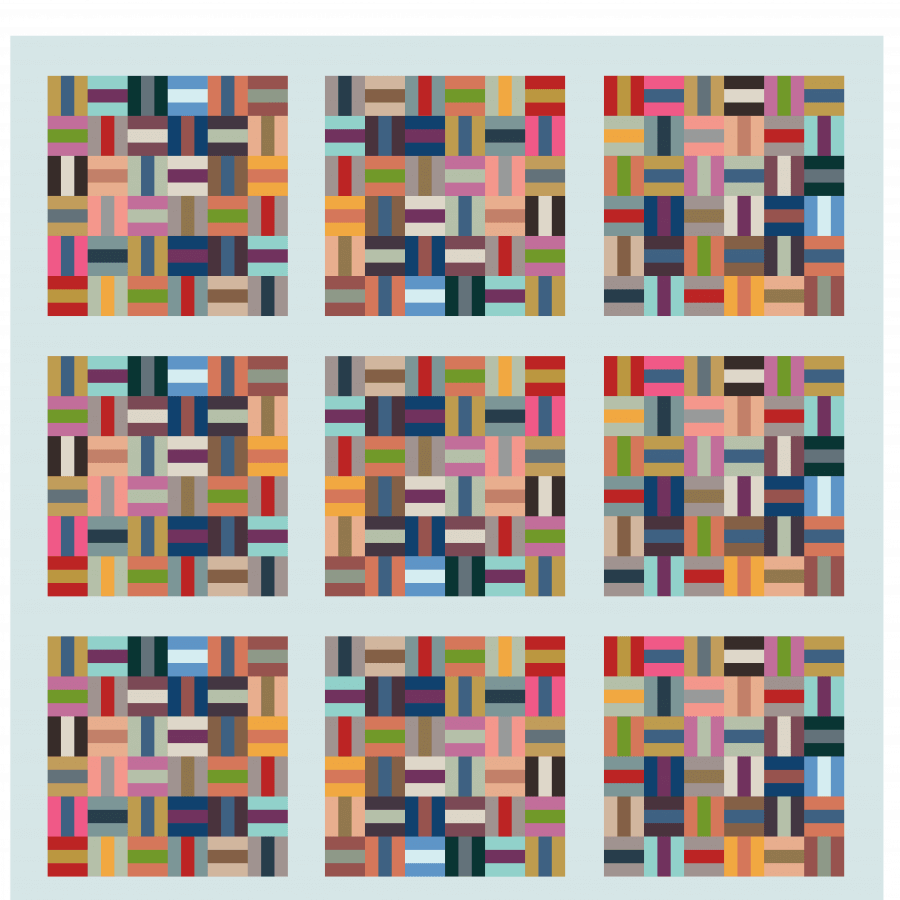 The result is the Crosshatch Quilt Pattern: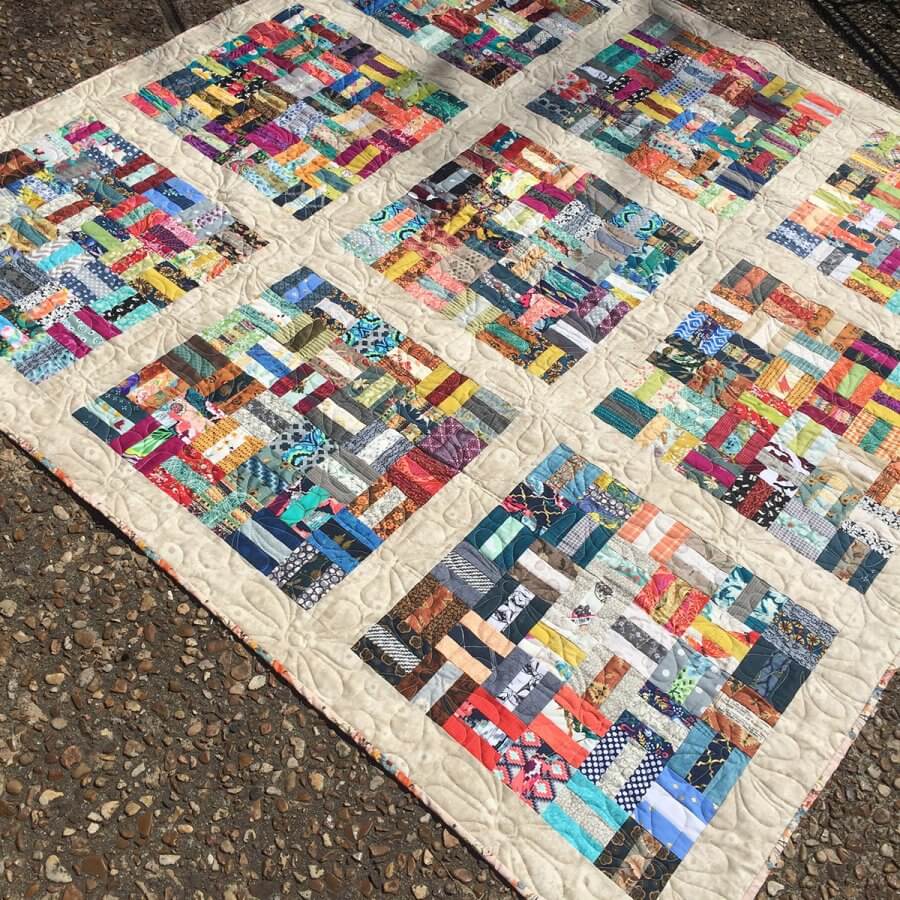 I realized that this was a perfect quilt for a beginner, especially if you wanted to learn how to "nail" that quarter-inch seam! This past year I've done a lot of thinking about what makes a pattern "ideal" for a beginning quilter, and I've put my focus on developing a set of patterns that new quilters can use to build their skills quickly and easily. (You can read more about that in this post on my 9-Patch Snowball Quilt Pattern. )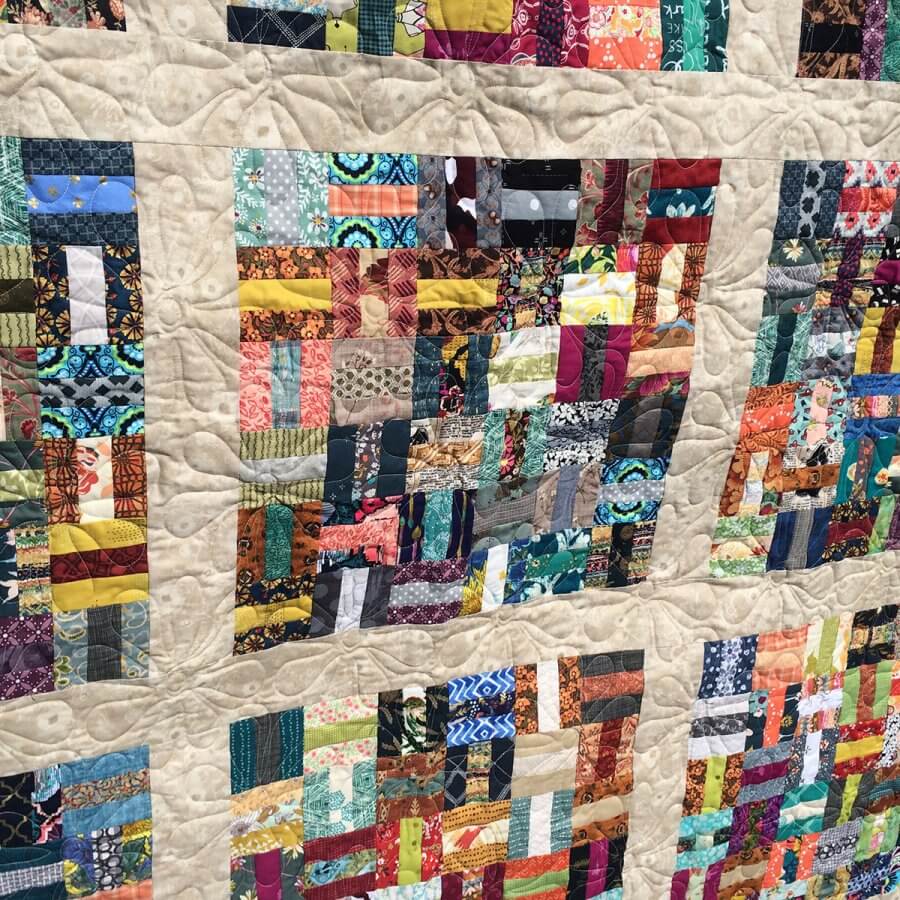 With this pattern, a new quilter doesn't have to worry about matching up too many seam points. The most important "match" is where four of the units come together, and this is easily managed by a new quilter.
I struggled with what to name this quilt, but my friend Sandi (who likes to draw) said that the lines created in the rail fence blocks reminded her of the crosshatching technique used in drawing. So, I went with it.
If you'd like to try your hand at the Crosshatch Quilt Pattern, I've made it available for download from my Etsy shop.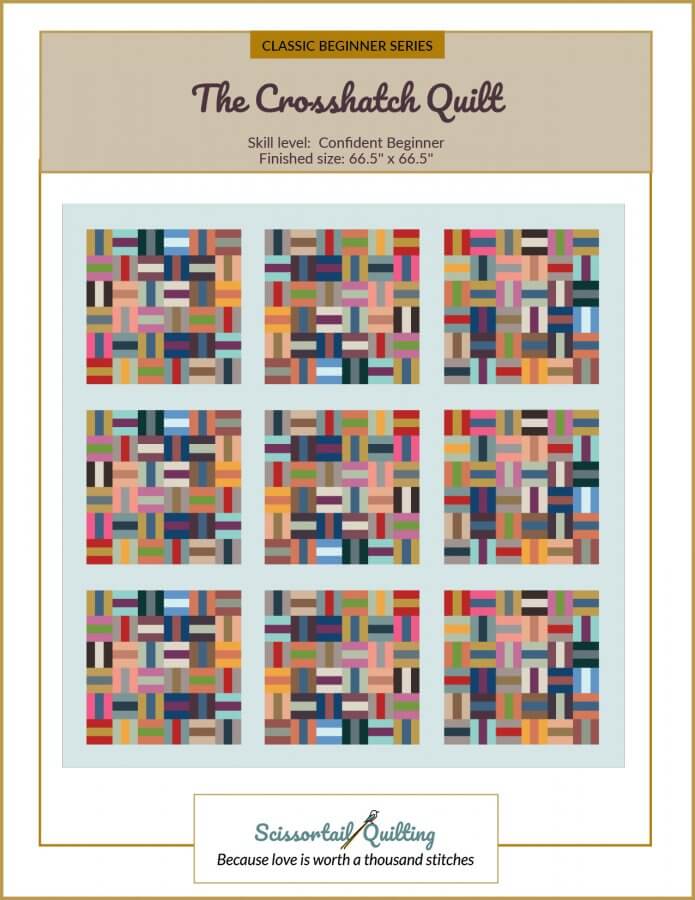 Thanks for reading, and Happy Quilting!