Let's Catch up…and Happy New Year!
Estimated reading time: 6 minutes
Hello, friends and fellow quilters. I can't believe the first few weeks of January have already flown by. I know I've been pretty quiet on the blog front for the past few months, so I apologize for just now getting around to saying Happy New Year! But I'm sure you were just as busy with projects, holidays, and travel as I was.
You guys should know by now that I believe in keeping it real here. I am NOT superwoman, nor do I try to be. While I would like to be a regular blogger, it's just not sustainable for me at this point in life!
Mostly I was busy with a fair bit of custom client jobs. I would have shared pictures of what I was working on, but some of it was top secret! (You know, Santa's elves have to be discreet!)
Today I'm just gonna write up a quick update and let you know what I've got in the works for this year and what I've been working on since November.
Here's what's gonna happen in the next few months:
First, I've gotta finish my quilt show entries by April! Here is a sneak peek of one of them … wish I would have pressed it before snapping the photo.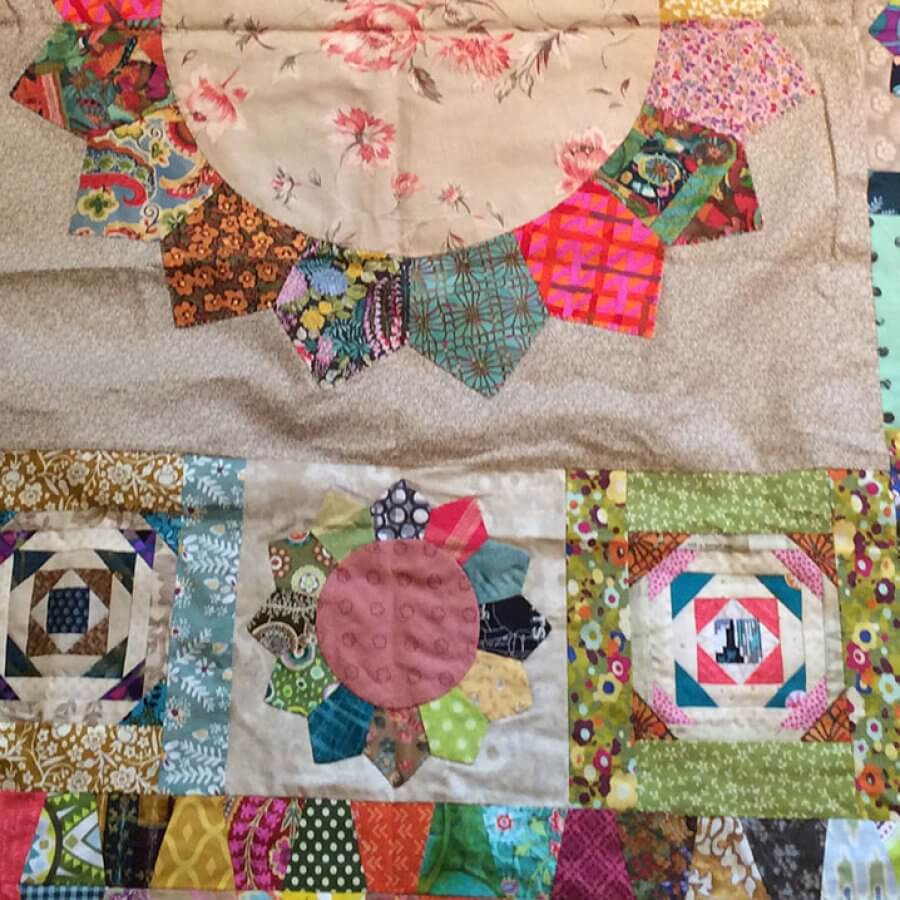 The last of the coloring sheets for the Quilt Block Library will be finished and ready to download (for free) within the week. I'm in the home stretch now! Again, I'm sorry this has taken me so much longer than I thought it would. (PS: Patterns are coming soon! See bullet below.)
Next week I'm getting back to routinely sending an email to all of you who have subscribed. (I'm so sorry I have been so delinquent.) The email is in a new format and I'm calling it "The Scissortail 3-2-1+ Update." Each email will contain photos of 3 Inspiring Quilts, 2 "good ideas," 1 happy thought, PLUS a bonus (such as a Block pattern or coupon.) Ideally, it will go out 3-4 times a month, but (again, keeping it real) I'm not sure I can commit to that often. I think this new format will give me a framework that will make it much more manageable for me. But we will just have to see how it goes.
As far as client work goes, I have several projects already lined up for the year: six denim quilts for a client (and I plan to create a pattern of my own version of this type of quilt later this year); I'm making a quilt for another client out of her wedding dress. (That will be a first for me!)
And I'm also making a quilt for my nephew Jayden who will be graduating this spring. He is quite the shutterbug, and so I have designed a quilt with that in mind. The pattern for that design will go up for sale shortly after the quilt is made.
Below I've listed what has kept me busy the last few months. I actually forgot some of the things until I started uploading photos (which took several hours, btw!) and I was like, "Oh yeah! I did that too!) Over the next few weeks, I'm gonna try to do some blog "catch-up" so some of these projects will get a full post. I will link those up to this page as I get them done. Here's the rundown:
I made my first tie quilt. This was a client project that was a Christmas gift for her father.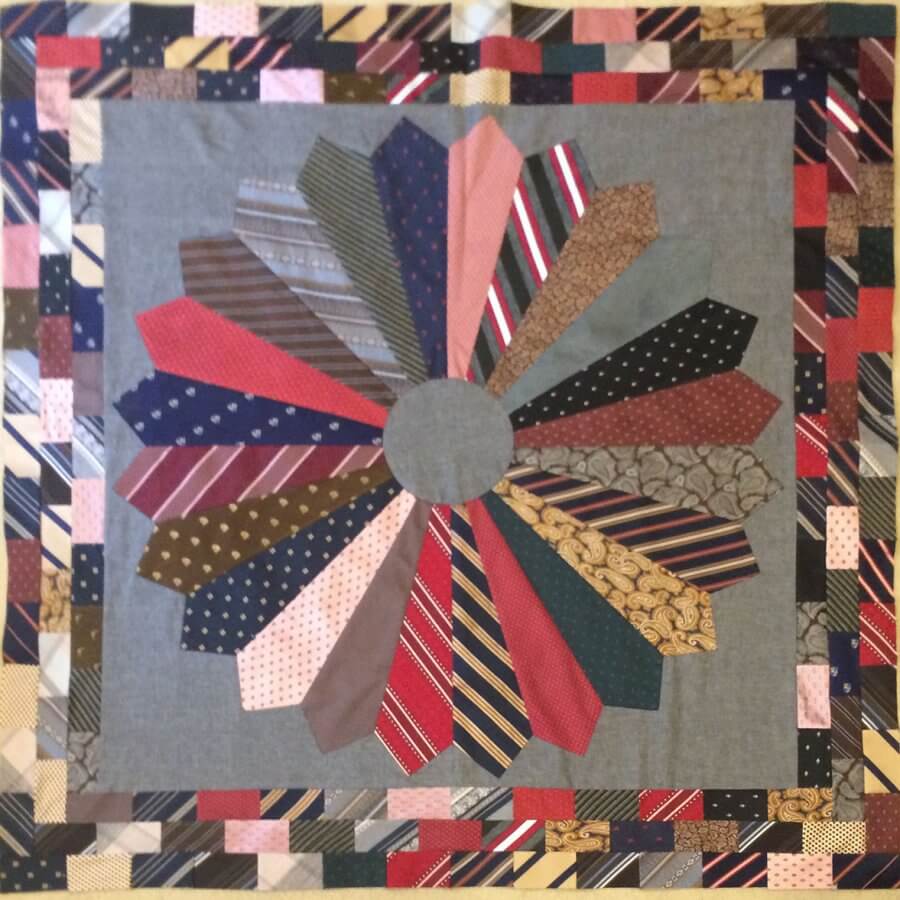 I made six pillows for another client from an old quilt that were Christmas gifted.
Three separate lap quilts were made from shirts for another client. (Two of these were Christmas gifts).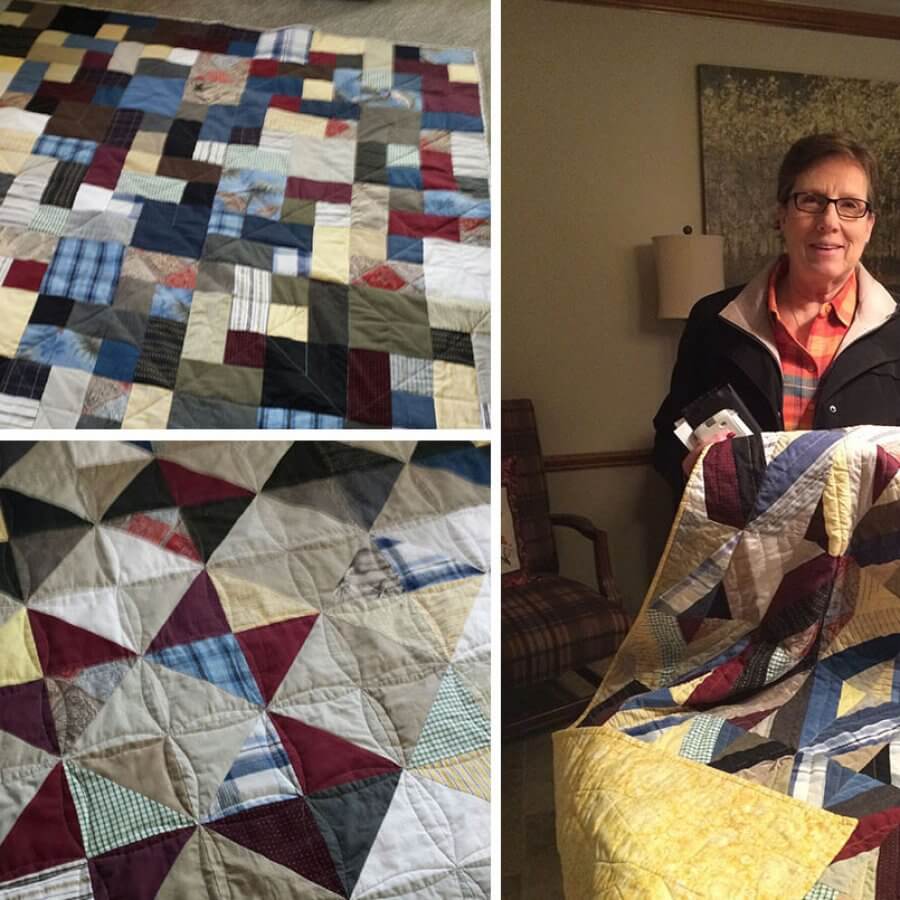 I made 25 Christmas gift bags for family food gifts. (And I did a whole bunch of gift cooking, too. This was my first year to make pepper jelly. And yeah, I was so amazed that it turned out!)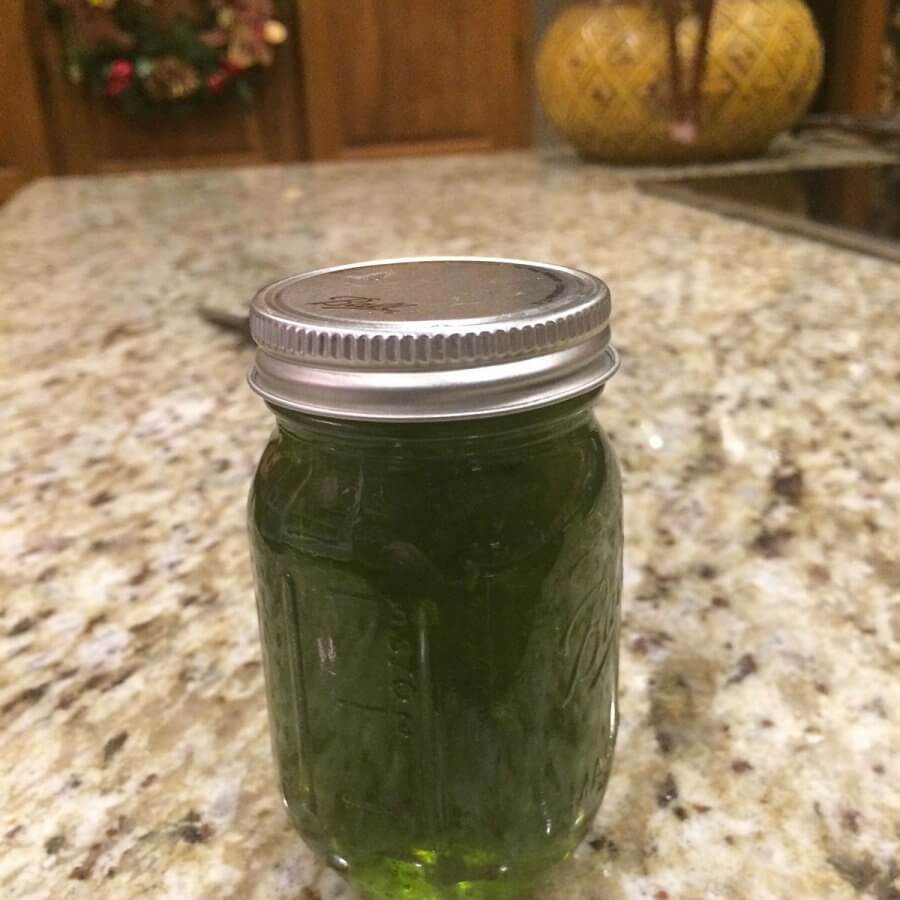 While I was in Houston, I bought some sashiko kits. Let me say that I am hooked. These are great to do while traveling or when I'm just brain dead at the end of a workday. One is now hanging in a frame in my kitchen, and another is in progress. ( I hope to use it in one of my quilt show entries). This has been so addictive, and I've even got my mom doing it, too!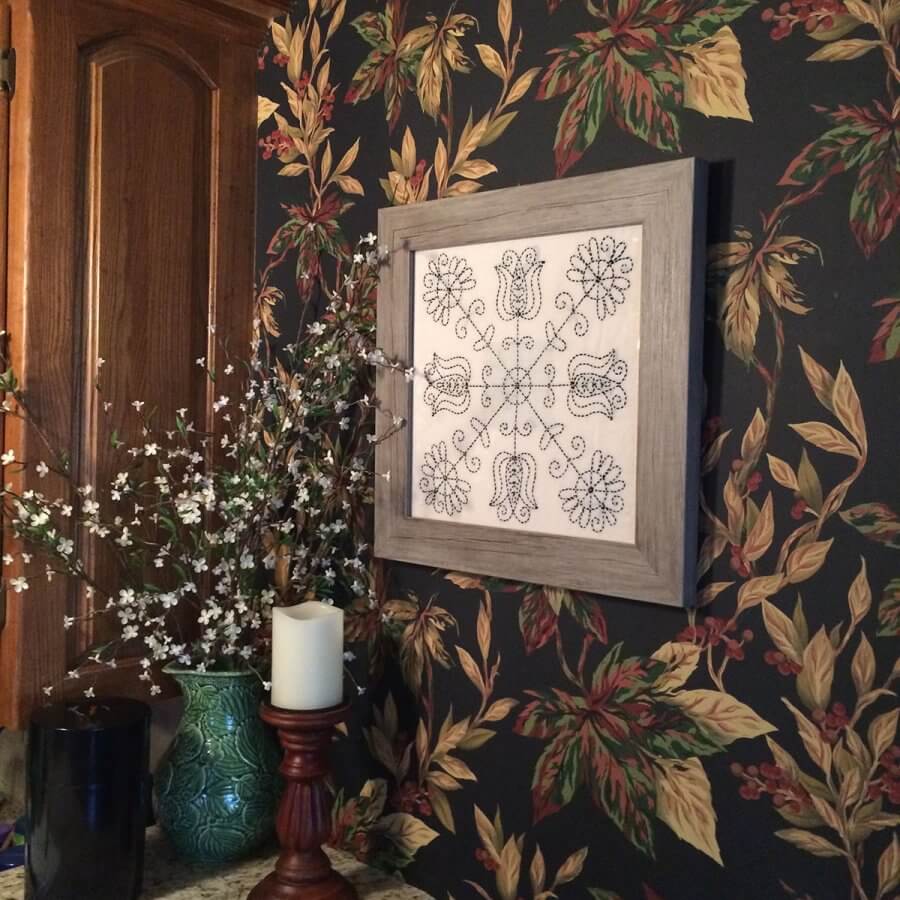 I finally assembled my block swap quilt top.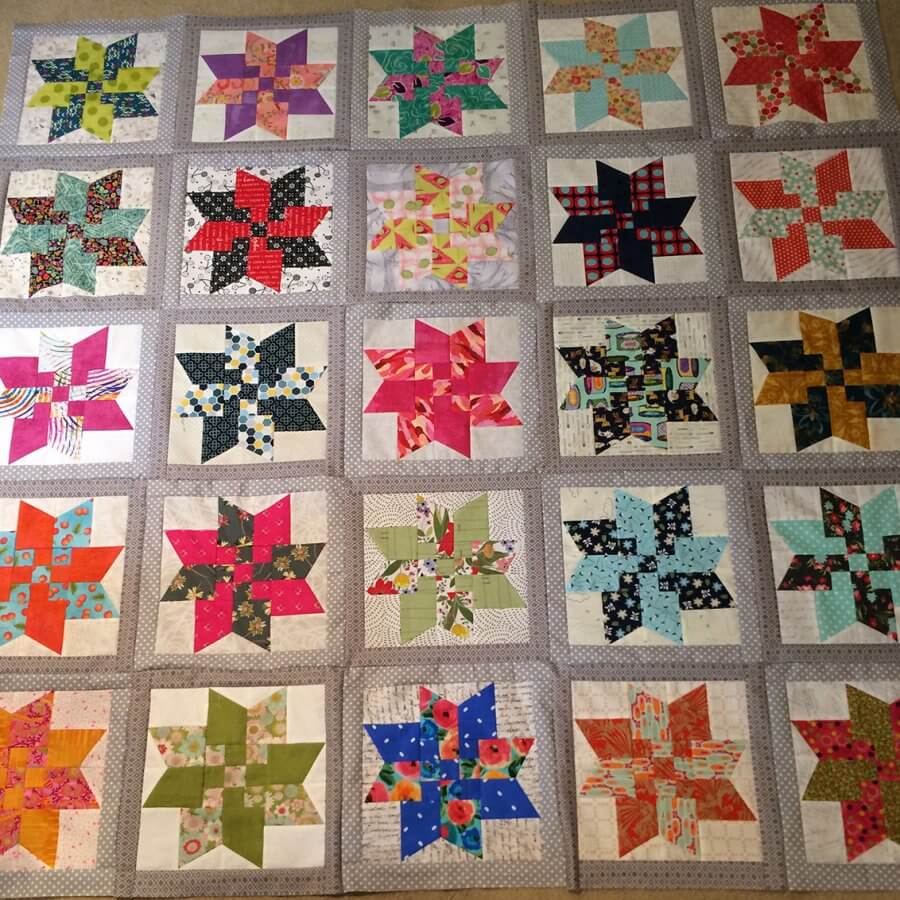 You may have noticed that a big chunk of my time has and will be spent making client quilts. When I first started quilting, I wasn't too keen on making quilts for other people, but I gradually ventured into the waters. Even though I've made a few things every year for other people since around 2015, I haven't wanted to go crazy with it. Lots of reasons why, but mainly that it's pretty scary to cut up someone else's memories and try to turn those fabrics into something meaningful to them. I mean, it's easy to figure out what I like, but I'm never quite sure the client is going to have the same reaction.
As I've had more opportunities to work my craft for other people this past year I've been overwhelmed with how grateful they are and the tears of joys that flow when they see the finished product.
These moments were very much like those moments at the end of an EXTREME MAKEOVER episode. I discovered that when all was said and done, it was just as fulfilling to me to see that I had helped them. Some of them were grieving, some of them were dealing with serious illness and were trying to preserve a legacy, some of them were just in periods of transition. But all of them wanted to hold onto precious memories. I'm just so thankful that during 2019 I was able to play a small part in helping them hold onto what's important in this world…the people they loved.
Here's hoping that your 2020 is full of stitching for the people in your world and that it brings you much joy!