Happy Place Quilt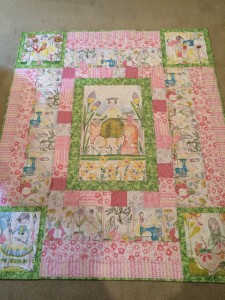 Just finished up this little quilt for the Quilt Sampler and thought I'd share. It features a new fabric line by Cori Dantini called "The Makers." She has a very whimsical style, and I just fell in love with all her drawings of feminine creativity. I had lots of fun free motion quilting it with loops, flowers and hearts. (Well, actually I only had fun quilting it the 2nd time around. The first time around ….mmm….not so much. Let's just say there were some major tension issues and me and my seam ripper got reacquainted!)
Anyway, she will go up in the shop tomorrow. If you are in Tulsa stop by and buy the kit cause once they're gone, I can take her home! I've already got a spot picked out for her in my sewing room!
Here's a peek at the backside, where I used up the remaining panels: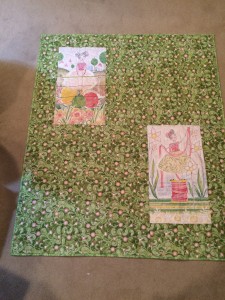 And to speed things up I tried out a new machine binding method.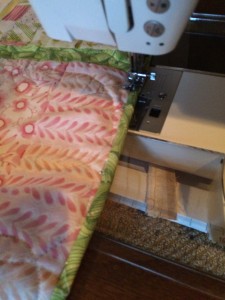 It turned out pretty, but I sure did stick myself a LOT with those pins! The jury is still out as to whether I prefer this machine binding method over the other technique I do using the Pfaff topstitch foot. While I prefer the look of this one, it is a little more work.
Anyway, Happy Quilting!
Happy Quilting!