Quilt Design Ideas using the Quilt Block Library Patterns
Today's post is intended to give you some quilt design ideas using the block patterns in the Quilt Block Library. Some people visit the library and see a treasure trove and know exactly what they are going to do with what they find. (Take Kate Spain for example 😉.) Others might need a little inspiration to get them moving in the right direction.
I know I sometimes fall in that latter category. Sometimes I need to see other designs to help get the creative juices flowing. And it doesn't have to be a quilt design. Really, anything can provide inspiration. I especially like to thumb through old quilt books. I often look at them and think "How could this be remade in a more updated way?"
So if you really like a block in the library but don't know what to do with it, let me throw out a few suggestions. Most of the block patterns shown in these designs are available to download in the library, but not all. I am working to get the rest of them uploaded as quickly as possible and I am writing up more formal instructions for each of the designs shown below. If you aren't already on the email list, subscribe if you want to be notified when these are ready. (You can subscribe at the bottom of this page.)
Traditional Quilt Design settings
Straight set blocks – this type of quilt design simply means the blocks are set side by side with no sashing. To do this, all your blocks need to be the same size or at least in multiples of the same size (i.e. 5″ and 10″  or  6″ and 12″)

My example shows them all the same size, but you could substitute any one block with 4 blocks that were half the finished size as the original. So if you were mainly using 10″ blocks, you could substitute one 10″ block with four 5″ blocks to mix things up.

While this example shows a sampler of blocks, you can easily do this setting using just one block. The grouping example on the block's page in the library should give you an idea of how this will look.
Straight set rows with sashing. The same rules apply with regards to the block sizes – they would all need to be the same size.  You can make the sashing any size you like, but I think it looks best when the sashing is 25% of the block size.  (i.e. for a 10-inch finished quilt block, my sashing would be 2.5″ finished.) Of course, you can also add borders any size you wish so that your finished quilt is the size you want.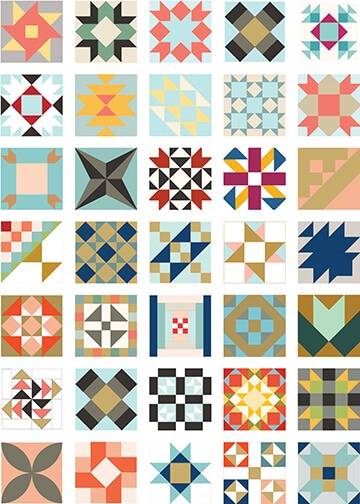 On Point rows with sashing. To make this a bit more interesting, I strategically removed some of the blocks and replaced with them with background fabric. Now, we have a heart design.
Custom Settings
I've been working on three custom settings below with three levels of difficulty in mind.
49 Block Collage (Challenging). This arrangement uses an assortment of block sizes ranging from 8″ to 20″.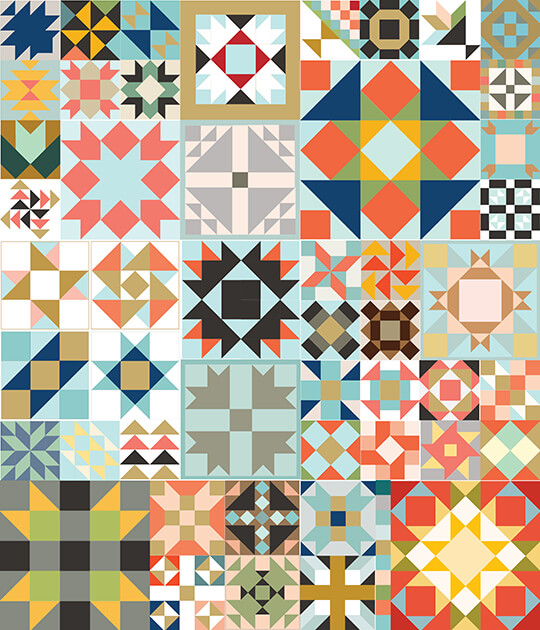 34 Block Medallion Sampler (Moderate). Using 10-inch blocks (except for the center medallion) and 2.5″ sashing, this design makes a quilt large enough for most double and queen size beds. If you need it larger you can always increase the size of the border. (See my bedding size chart for details about size ranges.)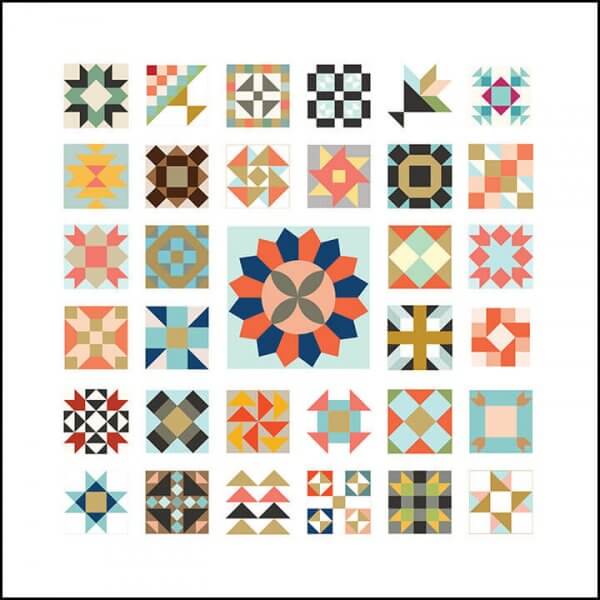 23 Block Modern Sampler (Simplest). This setting uses 6 15-inch blocks and 17 8-inch blocks.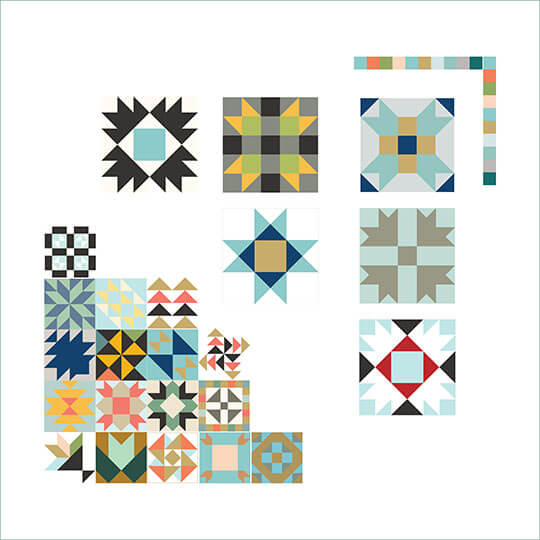 I hope these ideas give you a roadmap for planning how to use some of the blocks in the Quilt Block Library. Are you feeling inspired?  Are you ready to get some quilt blocks made? I know I am!
So, until next time Happy Quilting!