New Year/New Quilting Goals
Estimated reading time: 8 minutes
Happy 2023 to any and everyone who happens to land on this page. And as a thanks for stopping by, I have a little gift at the end of this post.
Looking back at 2022
As I write this, it is 31 December and I have spent most of my day updating the website (all those pesky tasks that I despise doing, LOL!) I did manage to get in a little bit of sewing, but like most people, I spent the day reflecting on 2022.
For the past 4-5 years my biggest regret at the end of every year is that I STILL haven't developed this website the way I envision it. (Will it happen in 2023? Who knows?)
After glancing back at my previous post about 2022 being my year for scrap quilting, I just had to laugh. And sigh. So many good intentions — And I did actually start several scrap quilts — but life just has a way of causing me to veer off the path I think I am going to take.
But I'm at peace with that.
I don't have any guilt about not meeting those goals. In the end, goals and plans are just a roadmap. The me that existed in 2010 would not have been able to say that. I would have held myself to the fire to meet those goals or made myself sick from the stress of trying to perform up to my expectation.
But I've learned there is a place in life where you have to stick to those priorities and there is a place to relax about them a bit. And if I need to take a detour, that just makes the journey that much more interesting, right?
Let me tell you, this year had a HUGE detour that culminated in my husband having a triple bypass. Those detours are stories for another day. In this post I will just stick to the quilting sagas in my life.
Quilting is a great outlet for me, but it is not my life. My husband, my family and my faith are my life. Those are the big rocks. And they always come first. Quilting is that area where I have to be — and CHOOSE to be — relaxed. Sure, I make a bit of an income from my quilting endeavors, but if it ever stops being fun it is not worth my time.
What's on my 2023 Roadmap?
That said, I'm going to lay out what I hope to accomplish in 2023. We will just have to see at the end of the year if I get there. I spent some time putting it all on in my task management software, but below are the highlights:
Quilt Show Quilts
During 2022 I took on a leadership role with my local quilt guild. And I will continue that role in 2023. It turned out to be more of a time commitment than I had expected (just another reason that 2022 goals got so derailed 🙃) but the payback in getting to know the local quilting community was totally worth it.
In June of 2023 our guild is going to have a quilt show. I plan to enter several quilts, including this one that I am frantically trying to finish by next week: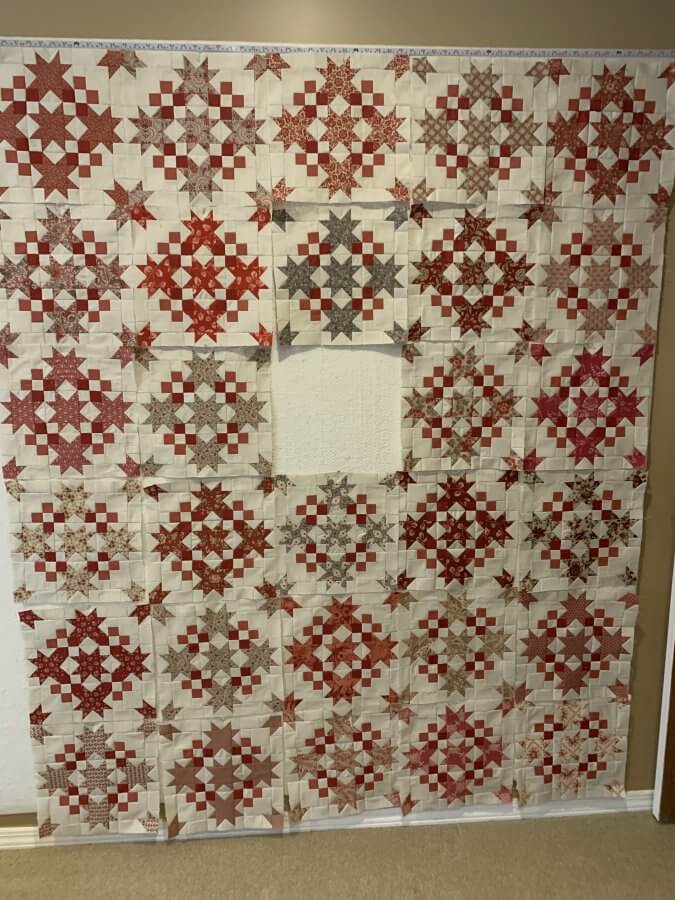 I'm having to redo the center block. It was just too dark of a red. Even my husband noticed that it made the whole thing look off balance. And then come the borders, which will be a bit tricky, I'm afraid. But that's what makes it fun, right?
I also plan to enter a Laundry Basket Quilts BOM that I finished last year, and if I have time,
I hope to finish an appliqué quilt that features a bunch of "compass block" sunflowers. I started it a few months ago. My first sunflower turned out great. Then I made three more while on quilt retreat and later realized I had made a fatal error on all of them.
NOTE TO SELF: Do not take projects to a quilt retreat that require brain power or that use unfamiliar techniques.
Clean out my "To Be Quilted" Pile
I currently have 7 quilts waiting to be quilted. Most of these are smaller quilts that I feel like I should quilt myself instead of sending off to a long armer. (Which should explain the delay, 😉!)
Yesterday I sandwiched two of them and hopefully those two will be done by the end of the month.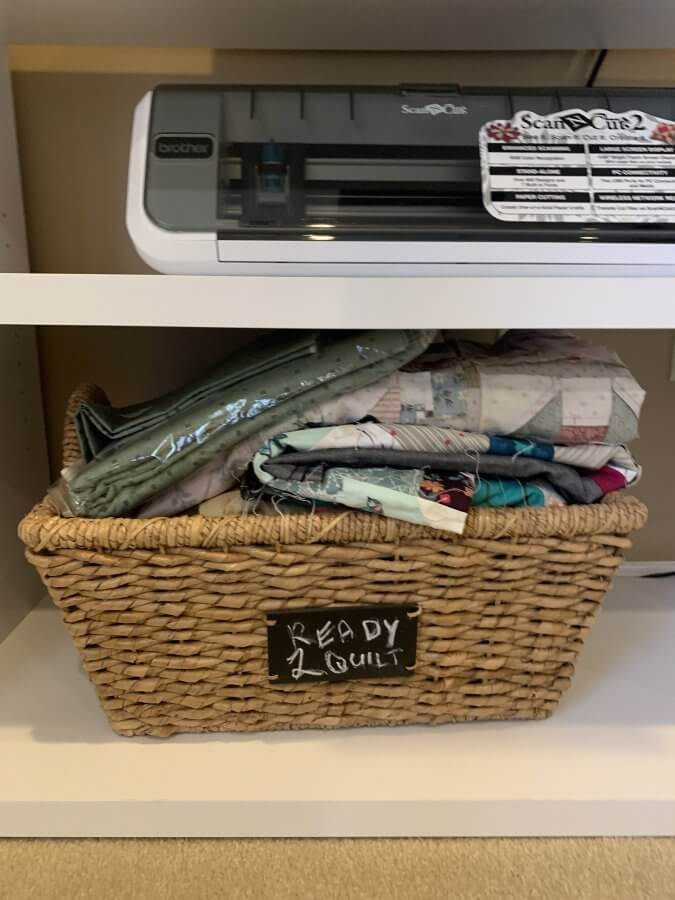 2023 Quilt Bucket List
I am intentionally keeping this slimmer than normal. Usually I would have more than a dozen quilts on here, but I'm realizing that it's best to just have the really important ones on this list. (I can always add more later, 🤣!
Letters to Santa Quilt. My family all supplied words at Xmas, so as soon as the sunflower quilt is finished, this one is up next
Traverse BOM – I really like doing a block of the month. There is something about doing a project that someone else has created and designed that I think is healthy for me. I almost always learn something new or gain some kind of insight from the exercise. And isn't that what quilting is all about?
Finish my "on point scrappy 9-patch" (started last year)
Make a graduation quilt for my niece. Her mom and I have chosen the new Songbook fabric collection. Can't wait to cut into these, but I need to figure out which pattern to use.
Make at least one scrappy donation quilt for Habitat for Humanity
Make another Village Quilt. I've said this many times before on this blog, but this is probably one of my favorite patterns EVER. I love making these little blocks and they are a great way to use up scraps. This might even be my Habitat quilt, so I could knock off two items from this list!
Website Goals
I am currently working up a new post on Sewing Room Organization. Last year I was able to move my sewing room into a much larger space. It's still not exactly the way I want it, but it is close enough to do a reveal and update everyone with some tips that I find make my sewing room function just a little happier. I'm aiming for that to go live sometime in February.
In a few weeks, I will start releasing some posts highlighting my 2022 finishes and my current projects. The goal is to post at least twice a month.
Still haunting me is the overwhelming amount of Quilt Blocks that need to be added to or updated in the Quilt Block Library. I'm gonna come clean on why this keeps getting pushed back – it just doesn't pay for me to invest the time required.
I am trying to decide if I should put the Quilt Block Library content behind a paywall because hours of work go into each one. Or maybe I put a donate via PayPal button? Would love to know what people think…would you pay $5-7 a month to have access to all kinds of detailed quilt block information? Or do you think you'd rather figure it out yourself or find the info for free elsewhere? I just struggle with whether this is worth my time.
Patterns in Development
I am more excited about my 2023 patterns than anything else I've mentioned so far. I am currently working up several new patterns that will be released later this year.
The one I am most excited about is a Christmas Quilt (or possibly two coordinating Christmas Quilts, still thinking this one through) that will be released in May or June. Hopefully this release will coincide with the release of the new Christmas fabric lines, so when you see that juicy new Christmas fabric you will have something fun to whip up.
That is all I am going to say about it for now, but starting in April or May you should see some blog posts showing the pattern testing and making of the prototype.
And finally, Emails…
Many of you have signed up for my email list over the past few years, but email has been something that I just haven't wanted to do. Mainly because I do a lot of email marketing in my day job, so sometimes email just feels like work. But I know it is going to be important to communicate the new content and pattern releases as they happen, so all those people on my list will probably get a "Remember Me?" email in the next few months, and then I plan to start sending a monthly update.
And that's enough about what's on my plate
What about you? What's on your plate? If you're like me and you start more projects than you have time to finish in a reasonable amount of time, it can be hard to keep up with it. I keep myself organized with a task list on my computer, but if you're more of a paper person, I've updated my "Quilt Management Project List" for you. You can download it using the button below.