Easy Star Quilt Block (6″ Finished)
Easy Star Quilt Block (6″ Finished)
The Easy Star Block, which finishes at 6″, is put together using a freestyle technique.  You don't have to be too careful about seams, as it is created over-sized, then trimmed down. Since stars are a useful element in lots of designs – Christmas quilts, Patriotic projects, and even baby items – knowing how to make this block is a nice skill to have in your toolbox. This block is fun to make, and quicker than paper piecing. (Four blocks can easily be made in less than an hour.) Free Download
Block Construction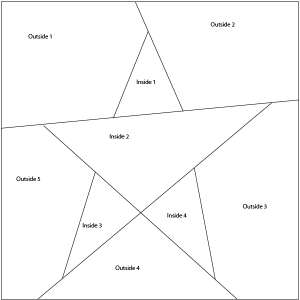 Illustration of the Easy Star Quilt Block Template
A few ideas for how to use the block:
Makes four 6″ (finished) Easy Star Blocks.
Note: If you want a larger Easy Star Block, enlarge the pattern and cut fabric squares the same size as your enlarged pattern. Or simply redraw to the size you want.  There is roughly a 25% waste with this technique, but this varies based on the size block you make. A 12″ square should suffice for a 9.5″ unfinished block.