Flying Geese Units
Flying Geese Units
The block pictured above is constructed with 8 flying geese units in a 2x4 grid. Flying Geese units are a foundational unit in many quilt blocks and can be put together in a myriad of ways to create beautiful borders and unique sashings.
Some examples of blocks that use flying geese units are: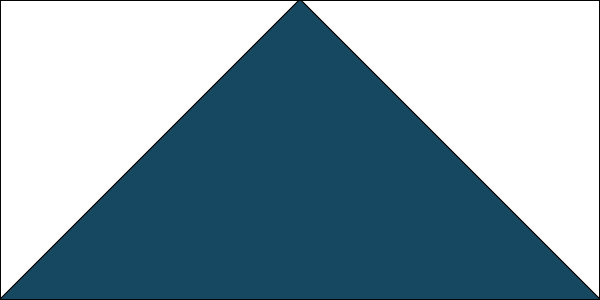 There are at least four methods for making Flying Geese Units. The two most popular are the Quick Corner Method and the Traditional Method (which has no fabric waste). Both are explained below.
Quick Corner (Sew/Cut/Flip) Method
The Quick Corner Method for Making HST's
Draw a diagonal line on the wrong side of each of your smaller squares. (Figure 1)
With right sides together, align one marked smaller square with one edge of the rectangle as shown in Figure 2. Stitch one thread width to the outside of the diagonal line.
Cut 1/4″ outside the stitching line as shown in Figure 3. Press the triangle open and the seam allowance toward the triangle.
Repeat steps 2 and 3 for the other side of the rectangle to complete the unit.
Tip
When you use the Quick Corner Method for making Flying Geese save the corners you clip off and use them as "leaders" and "enders" as you chain piece to turn them into small HST units. Accumulate a pile of these over time, then you can assemble them to make blocks in other projects.
Traditional (no waste) Method
Traditional (No Waste) Method
Determine the finished size you require, then cut your triangles using the chart below.
To assemble a goose unit, take one of the smaller "sky" triangles and align the long edge with one of the shorter edges of the "goose" triangle. Sew with a 1/4" seam.
Gently press smaller triangle open, with seam pressed towards the smaller triangle.
Repeat for other small triangle on the other side of the goose unit.
Rotary Cutting Chart
for Traditional Method for Flying Geese Units
(Makes 4)
Finished Size of Flying Geese Unit Unit
Large "Goose" Base
Cut 1 Square Size indicated below
Then cut twice diagonally as shown


Corner Triangle Units
Cut 1 Square Size indicated below
Then cut twice diagonally as shown


1" x 2"
3.25"
1 7/8"
1.5" x 3"
4.25"
2 3/8"
2" x 4"
5.25"
2 7/8"
2.5" x 5"
6.25"
3 3/8"
3" x 6"
7.25"
3 7/8"
3.5" x 7"
8.25"
4 3/8"
4" x 8"
9.25"
4 7/8"
4.5" x 9"
10.25"
5 3/8"
5" x 10"
11.25"
5 7/8"
5.5" x 11"
12.25"
6 3/8"
6" x 12"
13.25"
6 7/8"