Pineapple Quilt Block
Pineapple Quilt Block
The Pineapple Quilt Block, much like the Log Cabin Quilt Block and the Courthouse Steps Quilt Block is worked around a central block or unit by sewing strips along the sides. In the case of the Pineapple Block, strips are sewn to each side of a Square-in-a-square unit (SNS) and then each corner is finished off with a triangle.
Pineapple Quilt Blocks, like all strip blocks, are a great way to use up small bits of leftover fabrics and lend themselves to scrappy quilt designs.
For precision, many people like to make Pineapple blocks using Foundation Piecing. My preference is to use the Creative Grids Pineapple Trim tool, as I feel this technique is much faster and has less fabric waste.
The link below is an affiliate link, which means that if you click the link and choose to make a purchase, I will earn a commission. This commission comes at no additional cost to you. Please know that I only link to items which I personally use and feel that I can confidently endorse. Your support by using these links is greatly appreciated.
The Creative Grids Pineapple Trim tool comes in two sizes. The large version can be used to make blocks that are 6, 8 and 10″ sizes. The mini version helps you make finished blocks that are 4, 5 or 6″.
Block Construction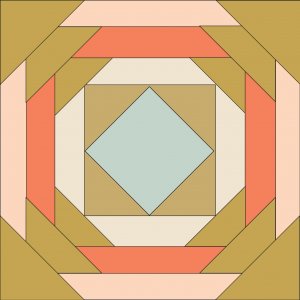 Coloring Sheets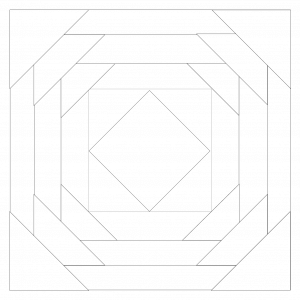 Click to download coloring sheets for the Pineapple Quilt Block.