Farmer's Daughter Quilt Block
Farmer's Daughter Quilt Block
The Farmer's Daughter Quilt Block is a 5-patch block that makes a star-like pattern around a central 9-patch. The Farmer's Daughter Quilt Block pattern is made up of simple squares and half square triangles typically using three colors.Depending on color choices, the 4 outer squares can sometimes give the illusion of a 3-D visual effect.
The block is listed in Jinny Beyer's book, The Quilter's Album of Blocks and Borders, and is also known by the following names: Corner Posts, Flying Birds, Miller's Daughter, and Rolling Star. In the 1930's, the same design was presented by Nancy Cabot under the name Two Crosses. The Four X Star is identical in construction but differs in its coloring.
In light of the block's design history, it's easy to see how color/fabric choices can give it an entirely new look. Even though it's clearly a traditional design, it still translates well into modern quilts.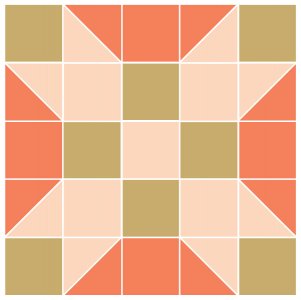 Click the image above to download the cutting charts to make a 10" block.