Garden of Eden Quilt Block
Garden of Eden Quilt Block
The Garden of Eden Quilt Block is another quilt block named with a biblical reference. In the Bible, the Garden of Eden was a place of Utopian perfection, where Adam and Eve walked with God, lived in a place of unfathomable beauty and were free from pain, worry, disease, and struggle. Everything they needed was provided for by God until they were separated from God because they failed to follow his only rule.
I imagine that the quilter who named this block was hoping, just like many of us today, that the world could be more like it was in that garden before the fall. A place where there was no war, no famine, and no struggle just to survive.
Whether you believe the story of the Garden of Eden or not, the block is a striking visual. In this version, the outer corners are made up of simple 4-patch groupings of HSTs. Other versions of the block replace these groupings with plain square or square-in-a-square units.
Grouping Example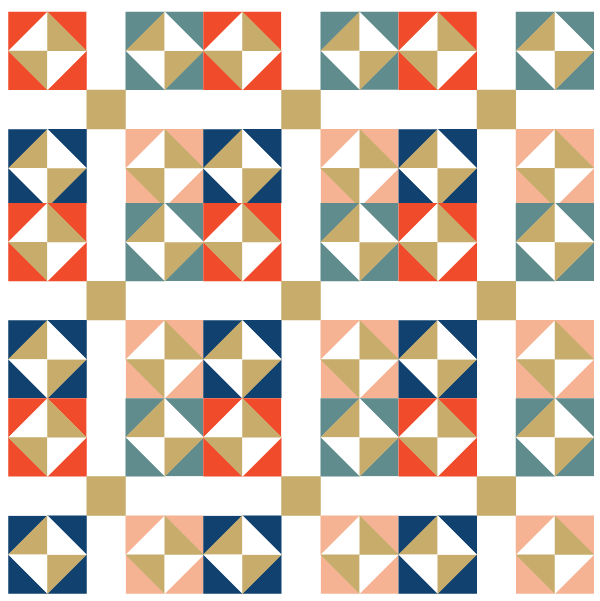 Illustration of a Group of Garden of Eden Quilt Blocks
Block Construction
Exploded version of Garden of Eden Quilt Block
The Garden of Eden Quilt Block is an uneven 9-patch. After the outer corners units are created, the block is put together just like any other 9-patch.
Coloring Sheets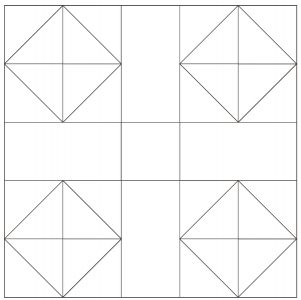 Click to download coloring sheets.
Pattern | Cutting charts