Union Square Quilt Block
Union Square Quilt Block
The Union Square Quilt Block Pattern. It's a great block, and I hope this article shows you how versatile it is. The Union Square Quilt Block is a traditional 9-patch that is sometimes called the "Four Crowns."  And that's a good name for it since it does appear that four crowns are surrounding the large central Square-in-a-square (SNS) block. It's a fairly easy block to make, but what I find interesting about it is the secondary pattern that is created when you group several of these blocks together.
Grouping Examples
As a graphic designer, I often work with seamless repeating patterns. Often a pattern tile will also create a secondary pattern. In quilting, if you use one block that creates a secondary pattern your quilt is going to have a lot of more movement.  The secondary pattern is created by the design elements that are found on the corners and sides of the tile (or block when we are talking about quilts.)
To see what I mean take a look at the illustration I created below and notice where the sides of the block are connecting to each other: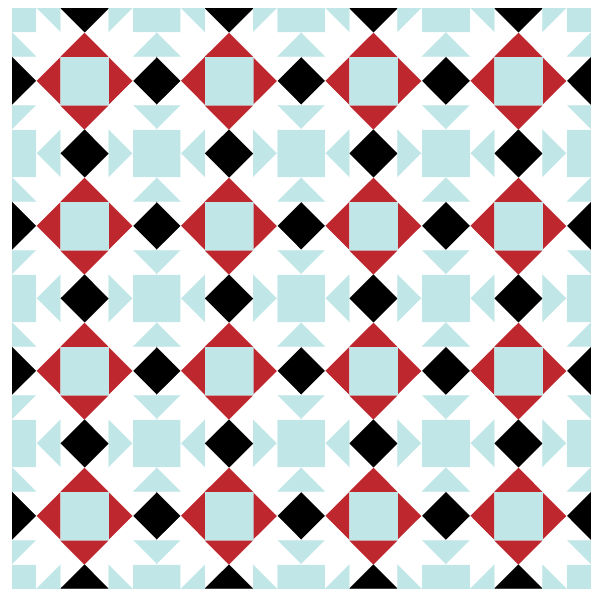 One way you can train your brain to be a better quilt designer is to try to visualize (or sketch out) what will happen to a block when you place four of them together in a 2×2 grid.  What is going to happen at the intersection where those four blocks connect? Is it going to make a square? A diamond? Is a larger motif created?
So, the Union Square Quilt Block is pretty cool because you've got two amazing secondary patterns going on.  Diamonds are formed where the blocks meet in the center, squares are formed where the blocks meet in the corners, but you also get these revolving triangles around that newly-created square.
Another Illusion
But it gets even better with this block. Notice how it feels like the blocks are set on point. But they are actually straight set. This is a handy thing to identify. I love the look of On Point settings, but they are a little more trouble to sew together. Straight sets are much easier, right? So, it's nice to get the look without all the trouble!
I used this effect in my Mingle Pattern. Looks tricky, but it's actually much easier than it looks.
Block Construction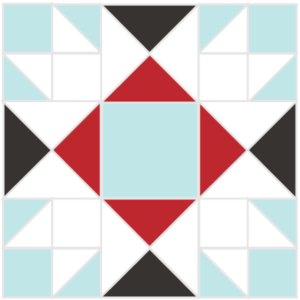 Exploded version of the Union Square Quilt Block
Coloring Sheets
Click to download coloring sheets of the Union Square Quilt Block.
Pattern | Cutting charts