A rail fence block unit consists of two or more rectangles sewn together to form a square unit. If your project requires numerous rail units that are identical, then a strip method greatly speeds up the process.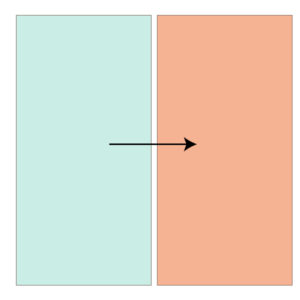 What can you make with a Rail Fence Block Unit?
Below are several examples of blocks that contain rail units of one form or another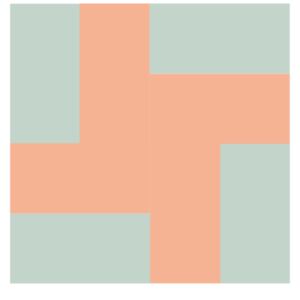 Join 4 Rail Units together to make this simple classic
To construct a rail unit, first determine your finished size. Divide the finished size by the number of rectangles your unit will contain. This will be your finished size,
For example, if your finished block is 6" and you want three strips, divide 6 by 3. This results in a finished size of 2" x 6" rectangles. Now, you add .5" to each measurement to get your cut size. The result is that you cut your rectangles 2.5" x 6.5"
After you cut the rectangles, sew the pieces right sides together using a 1/4" seam. Press to the dark side.
To strip piece rail units, cut two strips the width required for your finished unit. Place the strips right sides together and sew along the long edge using a 1/4" seam. Press open, with seam going toward the dark side. Then subcut the units into the lengths required. (For example, to make 4" finished rail units, you would cut two strips that were 2.5" wide and WOF. After sewing the strips together, you would subcut the strip into 4.5" lengths.