Y-Block Quilt Block Unit
Y-Block Quilt Block Unit
If you look closely at the Y Block Unit, you will notice that it is a hybrid of an Hourglass unit and a Half Square Triangle unit. Although the unit is called a Y block, it does not need a Y-seam in order to construct it. (It's called a Y block because the seams make a Y - Do you see the 'Y' in the white space of the exploded block image below?)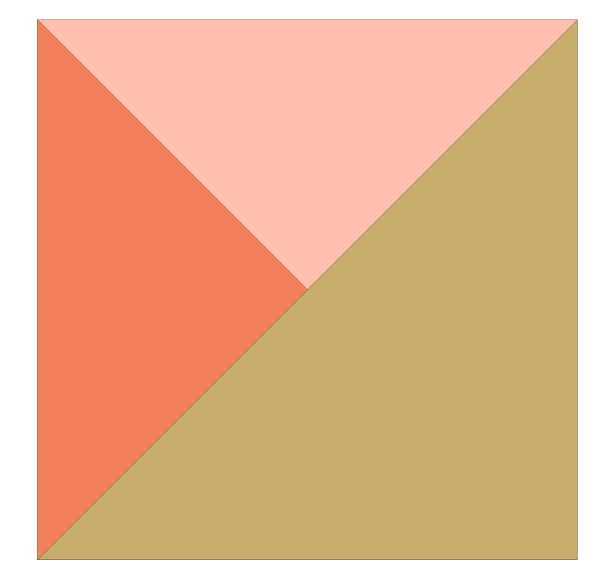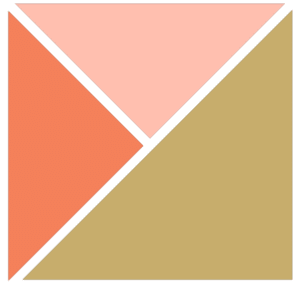 How to make a Y Block Unit
(Makes 4 Y Block Units)
Step 1. QST Side of Block
Draw 2 diagonal lines on the wrong side of one square. Place your marked square on top of the other square, right sides together and sew ¼˝ seam on each side of one of the lines. Next, cut on the unsewn line, then cut on the the other line between your two seams. Open and press to the darker side. You should have four triangular units.

Step 2. Cut your 2 HST fabric blocks in Half along the diagonal. You should have 4 pieces. Align the long edge of a HST piece with the long edge of a QST unit, right sides together. Sew along the long edge using a 1/4" seam. Press open.
Here are the formulas:
In case you need a size not found in the chart, use these formulas to calculate how big to cut your squares.
To determine the cut size of squares to make the QST side of the Y block:
size of finished square + 1 1/4˝
(Example: Finished square = 3.5˝, cut squares = 4.75˝)
To determine the cut size of squares to make the HST side of the Y blocks:
size of finished block + 7/8
(Example: Finished square = 3.5", cut squares = 4 3/8")
QUICK SEW Y UNITS
(MAKES 4 UNITS)
| | CUT 1 SQUARE EACH FROM 2 CONTRASTING FABRICS. CUT SQUARES THE SIZE INDICATED BELOW | CUT 2 SQUARES FROM SAME FABRIC, THEN SUBCUT ALONG THE DIAGONAL |
| --- | --- | --- |
| FINISHED SIZE OF Y UNIT | SIZE OF SQUARES TO CUT | SIZE OF SQUARES TO CUT |
| 1" | 2 1/4" | 1 7/8" |
| 1.5" | 2 3/4" | 2 3/8" |
| 2" | 3 1/4" | 2 7/8" |
| 2.5" | 3 3/4" | 3 3/8" |
| 3" | 4 1/4" | 3 7/8" |
| 3.5" | 4 3/4" | 4 3/8" |
| 4" | 5 1/4" | 4 7/8" |
| 4.5" | 5 3/4" | 5 3/8" |
| 5" | 6 1/4" | 5 7/8" |
| 5.5" | 6 3/4" | 6 3/8" |
| 6" | 7 1/4" | 6 7/8 |