Dutchman's Puzzle Quilt Block Pattern
Happy Block Friday! The first official release of the 2018 Block Friday Quilt Along is the Dutchman's Puzzle Quilt Block Pattern, a block with an interesting arrangement of Flying Geese Units that creates a pinwheel design.
About Block Friday
If you're new to Scissortail Quilting, here is a brief explanation of how Block Friday works:
Every Friday at 4:00 am (CST) I publish a free version of a Block Friday Block Pattern.
To get the free version, you need to be an "early bird." The free version is available until 4:00 pm CST and includes instructions to make the blocks in multiple sizes, and always the sizes needed for the Block Friday Quilt Settings (See this post for the Settings.) After 4:00 pm, the full version of the pattern can be purchased for $2.00.
If you want to play along for prizes, post a photograph of your completed block to Instagram using the required hashtags for that month. Also, in order to be eligible for prizes, be sure your Instagram account is following @ScissortailQulting. It might be a good idea for you to follow the hashtags for the month, too! (That's a new Instagram feature!)
For the entire scoop of details about the Block Friday Quilt Along, see this post.
Missing the Free "Pre" Block Friday Patterns?
When Block Friday was first announced, special full versions of four "Pre" Block Friday patterns and a special Notebook cover were offered to those who joined me early on. If you're feeling like you missed out, don't worry. You can receive these too as a free download when you subscribe to the email list.
January Block Friday Contest:
Here are the specifics of our January Block Friday Instagram Party:
Post as many unique block photos of any block pattern that was released on this blog during December or January. Be sure to use the hashtags #STQ_BLOCKFRIDAY and #STQ_BlockFriday_Jan2018
The random winner will receive this awesome bundle of Mahogany Kona Solids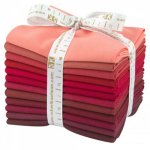 Another random winner will be selected from those accounts that post at least one photo each of all the December and January Block Friday block patterns. Because they will have "ruled" them all, that prize will be the Creative Grids Itty Bitty Eighths ruler, which is now my favorite ruler for trimming.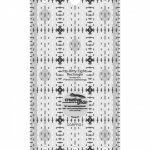 New Blocks in the Library:
Thanks to those of you who have written encouraging comments to me about the Quilt Block Library. It's great to know that other quilters think it will be useful, too. (Sometimes I wonder if I'm the only one who thinks it's a good idea…) If you enjoy the Quilt Block Library, you might be happy to know that I've added 12 new blocks over the holidays. (I know, I was supposed to be taking a break, but I truly enjoy drawing them. And, once they are illustrated, then I have them in my "design" stash. The graphic designer in me loves to pull these into Adobe to play with quilt design ideas. Yes, there is an ulterior motive…)
Here are the new blocks with links to the Block Library article in case you'd like to check them out:
[col-md-4]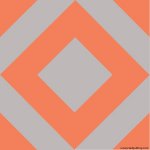 [/col-md-4][col-md-4]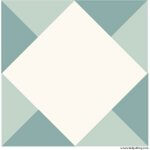 [/col-md-4][col-md-4]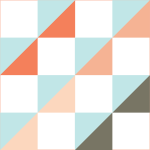 [/col-md-4][col-md-4]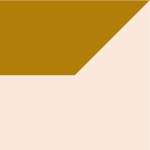 [/col-md-4][col-md-4]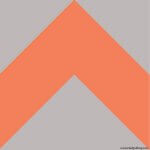 [/col-md-4][col-md-4]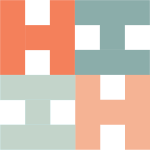 [/col-md-4][col-md-4]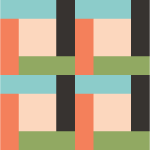 [/col-md-4]
[col-md-4]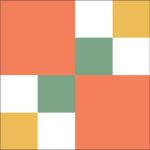 [/col-md-4]
[col-md-4]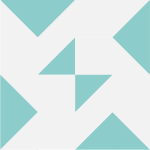 [/col-md-4][col-md-4]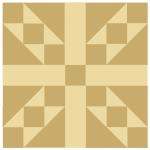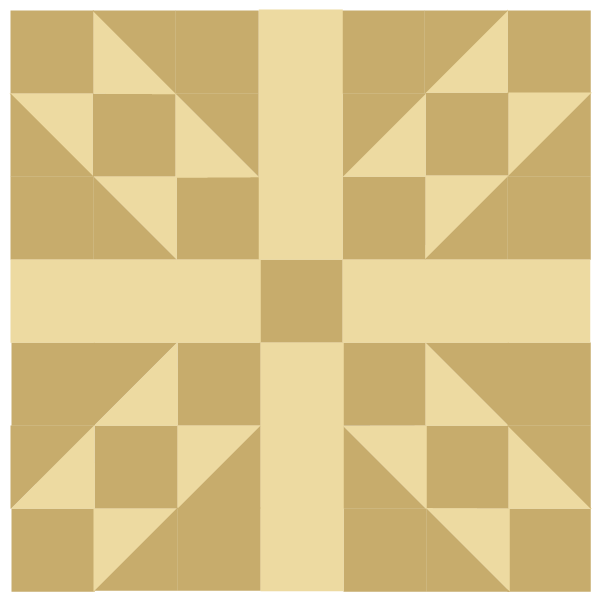 [/col-md-4][col-md-4]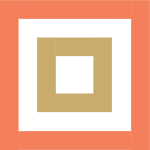 [/col-md-4][col-md-4]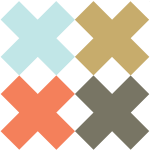 [/col-md-4]
As you can see I am trying to keep a mix of modern/traditional and easy/challenging. If there is a block you'd like to see in the library, just send me a note and I'll look into it.
The Dutchman's Puzzle Quilt Block Pattern
Enough of the housekeeping, let's get back to the show…
Unless you have a fear of flying geese, this block should be a breeze. For my friends who do suffer from this form of anxiety, let me just say that we have to face our fears. The more you do them, the better you will get.
It's true that geese can be a bit tricky. But there are some great tools on the market, some tricks that can make them much easier, and several different techniques you can try for making flying geese. With some practice and experimentation, you can find what works best for you. My favorite method to make flying geese units is the quick corner method (sometimes called the Sew/Cut/Flip or Sew and Flip method), and this is the method I use in the video. There is a mini tutorial for this technique on the Flying Geese Unit page of the Quilt Block Library if you want to check it out.
The Best Flying Geese Tip Ever
True confession: Although I did actually mark my squares in the video for the flying geese, I usually skip that step. Not because I'm that good, but because I have the right tool. You can save tons of time and improve your accuracy when making flying geese (and half square triangles, too, for that matter) by using this little tool. My sewing buds and I affectionately call it the "Kim Line" but it's well worth the $10 investment. There are several varieties on the market, and they all do basically the same thing.
The link below is an affiliate link, which means that if you click the link and choose to make a purchase, I will earn a commission. This commission comes at no additional cost to you, but the commissions I make help support the costs of my website. Please know that I only link to items which I personally use and feel that I can confidently endorse.
I've used several of them, and the one I currently have on my machine is "The Angler 2" which unfortunately is no longer on the market. I also keep the "Clearly Perfect Angles" by New Leaf on my older machine. It is different from the others because it is made from a "cling" type plastic instead of rigid plastic. It works great, and some of my friends prefer it. Personally, I don't like using it in situations where it will frequently need to be removed then reapplied.
Love those Pinwheels
One more comment about the block itself: I love the fact that it makes a Pinwheel when put together. As a designer, I'm always on the lookout for elements that create movement. A pinwheel block is great for that. Each of the pinwheels "point" your eye in another direction. When used in a quilt design, this can serve to help the overall look have flow and movement. As you look at other quilt patterns, keep an eye out for that. Notice whether the pinwheel device was used to good effect or not. Did it cause your eye to flow naturally across the design? Or did too much of it make you dizzy? Used correctly it can make a quilt design more lively and exciting.
This week's release: The Dutchman's Puzzle Quilt Block Pattern
So, without any more delay, here is the download link for the pattern. And beginning this week, the free version will also have a little something new to it. (I'm not going to ruin the surprise, but please let me know if it makes you happy!) Head over to the Block Library article on the Dutchman's Puzzle Quilt Block to download either the free or full version of the block and see how the block is constructed.
Remember, if you have any questions or comments, please reach out to me either thru my contact page or thru the comments section below. I am here to help!
Happy Quilting!
Maria
Happy Quilting!