The Flying Geese Quilt Block Pattern
Happy Block Friday, friends!
This week's pattern is the Flying Geese Quilt Block Pattern. If you grabbed the Dutchman's Puzzle pattern a few weeks ago, you should find that this pattern is fairly similar because it, too, contains 8 flying geese units. The main difference in the two blocks is just in how those 8 units are arranged. This block is a great skill builder, so below I link out to my preferred method to create this essential quilting unit and give my best tip for how to get them to come out perfectly. But first, the download link and a little information on some possible changes to the Block Friday promotion.
The Flying Geese Quilt Block Pattern Download:
Head over to the Flying Geese page in the Quilt Block Library to grab the download.
Block Friday Update
Note: If you're just now finding Scissortail Quilting, I'm running a promotion this year that I call Block Friday where I release a new quilt block pattern every week. (You can check out the initial post with all the details here.)
For those of you who've stuck around and kept coming back, I first need to say "THANK YOU." It does my heart a lot of good knowing that you enjoy the patterns. This is the first time I've tried to orchestrate an online promotion (Newbie alert!) and so I'm in unfamiliar waters. Now that we are about a month into it, I have been evaluating what I think is working and what isn't.
Here are my observations/thoughts:
I need to leave the free versions available on the site MUCH longer (at least a month, but perhaps permanently) to give more quilters a chance to find them. This may mean that I reorganize where the downloads live on my site so that it makes a bit more sense long term. If I change that up, I promise to keep it easy for you to find.
As of the writing of this blog post, I am the only one posting to the Block Friday hashtags on Instagram (#STQ_BlockFriday and #STQ_BlockFriday_Jan2018). It's a lonely world sometimes, isn't it?
Perhaps you guys are a bit shy, or perhaps you guys are waiting until the last minute to post your blocks to Instagram? At any rate, it has me thinking that perhaps an online contest is a bit premature. Depending on what happens during the last week of the January contest period, I may decide to hold off on any other contests for awhile until we get a little more traction. While I think it sounds fun, the reality is that it is a lot of extra effort to manage, and if you guys aren't really into it, I could certainly use the time and energy to focus more on designs and patterns. Perhaps a quilt along and some contests would be a better activity for later down the road? I'm not too proud to admit that maybe I got the cart before the horse on this part of the promotion.
Even if contests go off the menu, the weekly block patterns will continue. I'm completely committed to releasing a new block pattern weekly and releasing the setting patterns for the blocks that I am feverishly working on. No worries, the free block pattern versions will continue.
Please leave a comment below or reach out to me if you have any opinions you want to share regarding any of my thoughts.
Perfect Flying Geese Quilt Blocks
Back to making perfect flying geese. My preferred method for making flying geese is the "quick corner" method. I explain that technique, along with the traditional method, in this article in the Quilt Block Library.  If you want a refresher, click and check it out.
But let's get into some nitty-gritty details here.
When I first started making flying geese units, I noticed that they often had a slight problem. They tended to be just a little bit short, and that "shortness" was usually in the top two "sky" corners. My blocks often looked something like this:
Notice how the two "sky" corners are not exactly square. They seem to lean in a bit, don't they?
I later learned a trick that gave me significantly better results. Instead of sewing directly on the marked center line of my corner squares, sew just a thread's width to the right of the line.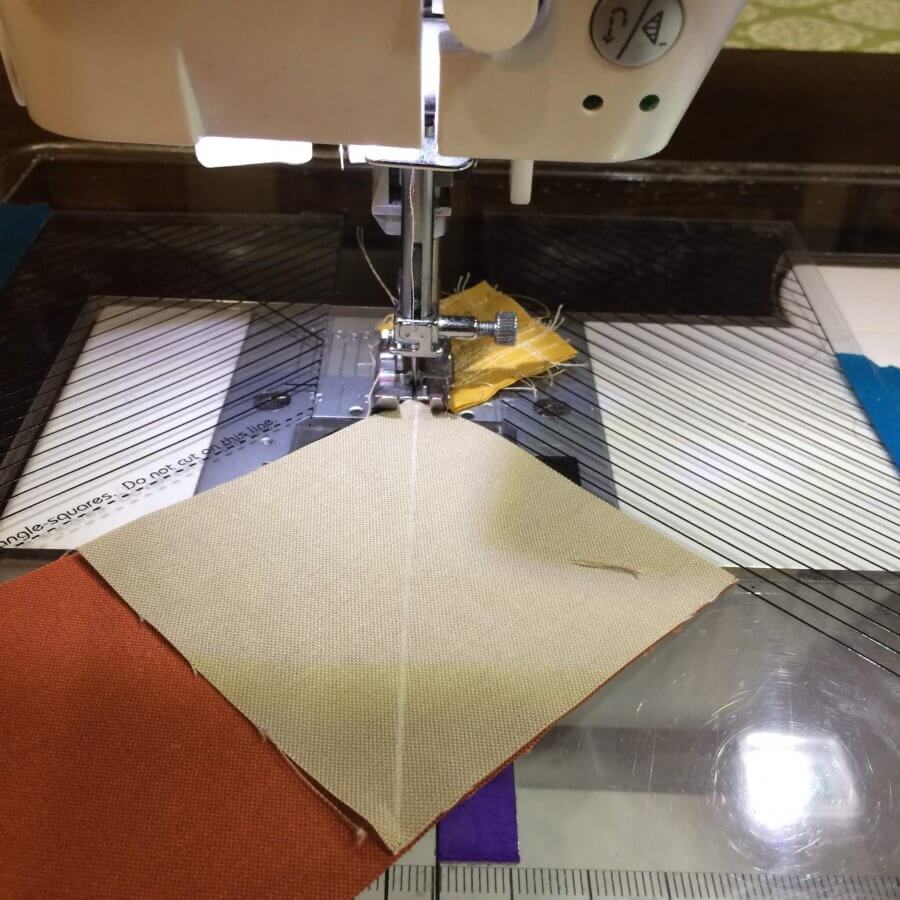 Now, this isn't a great picture because I didn't do a good job of marking the center line. You'll notice that my center line is a bit off in the upper corner. In this case, I need to be super careful to keep in mind where the "real" center line is and adjust so that I'm sewing just to the right of it.
I know this sounds a little crazy, but it works. Here is why: when you cut and flip the corner, a bit of the fabric gets used up by the fold and the seam allowance. When you give it that little extra bit of width, you add that back into the equation and the unit comes out more precise.
Here is how my geese turned out. Perfectly square corners instead of short, crooked corners.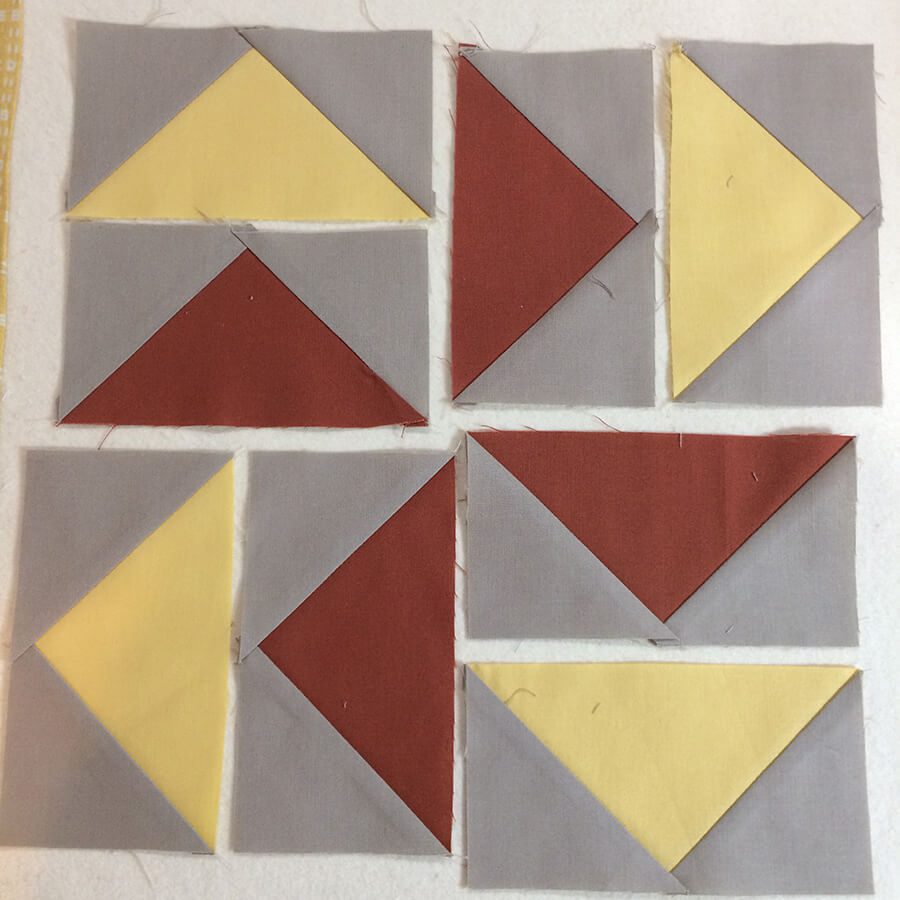 I hope you find that you get some better results when using this tip!
Until next time!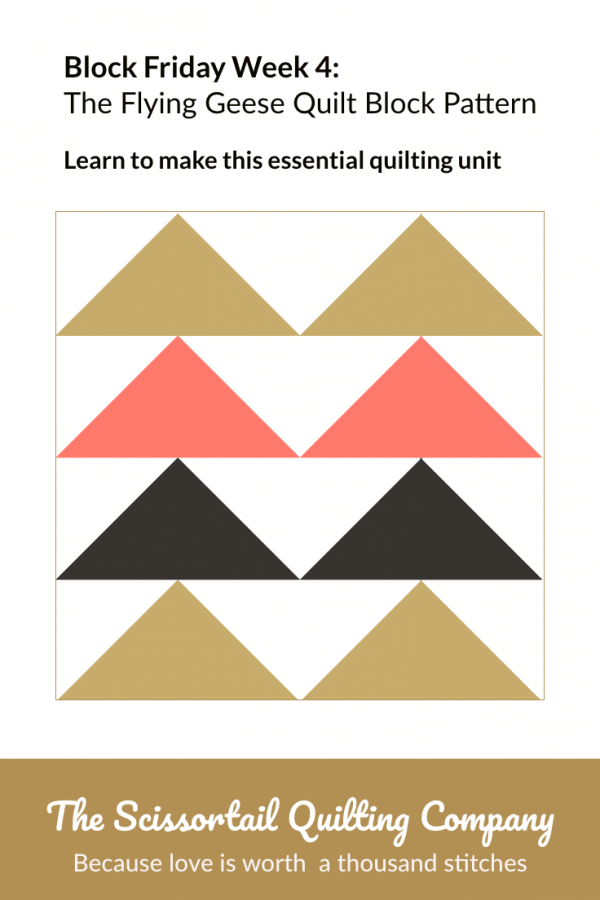 Happy Quilting!